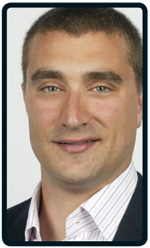 While most publishers attempt to figure out how to translate their magazines into the digital space, Hearst developed a lab dedicated to it.
The Hearst Magazine App Lab, a team of about 35 staffers led by Chris Wilkes, launched in the summer of 2010. During this time, Wilkes and his team of developers, designers and content creators have created 70 different digital magazines and apps for the Hearst group. Due to these efforts, Hearst is currently the only publisher to have every one of their titles available on Zinio and the Nook II.
In addition to app creation, the App Lab has also been holding educational sessions featuring roundtables, previews of emerging content and research findings over the past year. Known as "Tuesdays at the Tower," sessions are typically attended by a group of 100-120 participants, including marketing partners, developers and selected members of the media.
The App Lab will also become a physical space later this year, a "think tank" located in the Hearst Tower. The App Lab works closely with iCrossing (who runs the Content Lab for Hearst) in developing apps, and iCrossing will also be using the App Lab once it is launched.
Wilkes, vice president of the Hearst Magazine App Lab, said that the Lab is a philosophical approach aside from being the name of a future physical space.
"We're trying to do as much experimentation as possible around business models, but also find out who this works for. Is it our content and our people, or is it new forms of content with new people?" This being said, Wilkes shared Hearst staff "score really well in the process."
Focusing much of the last year on research, the App Lab has seen fast adoption rates of tablets, and discovered business models "that make sense for these products."
Looking ahead at what is next for his team and the App Lab space itself, Wilkes says, "It's really now a matter of reaching out and trying to achieve scale in this environment. The rapid growth of tablet sales and usage certainly helps that, but also there's quite a bit we need to do right away on the consumer marketing front to take these types of products to much bigger audiences."

VITAL STATS: The App Lab team has begun hosting "Tuesdays at the Tower," educational sessions for select partners and media members.