Chris Dixon

Design Director | New York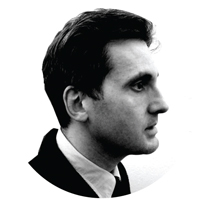 Amid the avalanche of stories about the Bernie Madoff scandal, a recent New York cover may have nailed it best: Madoff re-imagined as The Joker.
"It's a way of reacting to news smartly and in a way no one else does," says Chris Dixon, who was promoted to design director in March 2007 after initially joining New York in 2004. "It's having a point of view, and taking a risk."
Dixon, who joined the magazine as part of a new design team under editor-in-chief Adam Moss, is quick to point out that New York covers are a collaborative effort, along with Moss and photography director Jody Quon.
"We've been evolving the last four years and I really think there's been a return to the glory of days of Clay Felker [who founded New York in 1968]," he says. "There's clarity in the design, not overly decorative, but strong and bold and graphic."
New York notched five awards at the 2008 American Society of Magazine Editors' Cover Contest, including Cover of the Year and Best Coverline. (Both awards recognized the now-famous cover of former New York Governor Eliot Spitzer, with the word 'BRAIN' next to an arrow pointing to a certain body part.)
While many magazines are struggling against the downward economy, newsstand sales for New York rose 1.6 percent in 2008 compared with 2007, according to the Audit Bureau of Circulations, despite a 20 percent increase in the cover price.
Dixon has also played a significant role in the redesign of New York's "Intelligencer" section, which rolled out in February and includes new sections such as "Posts," a collection of essays, and "Breaking," a vertical-photo spread featuring an up-and-coming New Yorker. "We want to deliver something that has a visual experience you can only get in print," Dixon says.
VITAL STATS: Newsstand sales rose nearly 1.6 percent in 2008, according to Audit Bureau of Circulations, even with a 20 percent increase in cover price.
Meet the Author
---