Choosing the Right Fulfillment Provider

Developing a mutually beneficial relationship with your provider.
As many circulation and development departments have discovered, a good fulfillment provider is hard to find. Technology Review knew it was time for a change when the 10-to 12-digit account numbers on each of its mailed issues was unidentifiable, even to the trained eye. "Our readers—some of whom have Nobel Prizes—couldn't find them!" says vice president of circulation and consumer marketing Heather Holmes. When the magazine expanded its publishing model in 2006 to include events, custom and e-media, it was an ideal time to make the switch.
When Anne Drobish began as the associate circulation director of audience development for NewBay Media, each of her magazines handled fulfillment differently. "Some were in-house, some were outside…there wasn't a central database." It was Drobish's job to assign a monetary (marketing) value to the provider services most beneficial when the company wasn't meeting its financial goals.
Both circulation heads had to begin the hunt for a cost-effective provider that fit their companies' styles.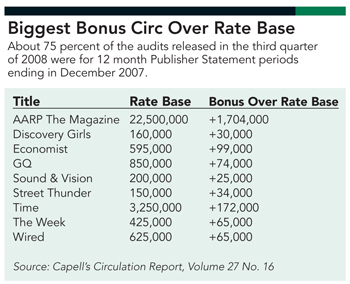 Evaluate Prospects
Ultimately, NewBay was forced to "reevaluate how to improve the back end of the business and standardize data," says Drobish, who rated providers by asking key questions: How has their business changed? How old are their contacts? Is real time reporting hurting analysis?
Holmes sat down with her team to compile a list of provider criteria. "A master schedule system was a must," she says, and the system had to be "in true real time, integrated, and have 24-hour data access."
Both agreed to bring key personnel, specifically those who would interact directly with the system on a daily basis, to the initial meeting.
See Past the Pitch
With all the bells and whistles (read: latest technologies) that providers have to offer, how is it possible to see past the sales pitch to what the provider can actually offer?
"I call it the 'wow factor,'" says Holmes. "It's very hard to overlook the coolest possible technology. You just have to decide if your company will truly benefit from a fully-loaded system."
Sometimes you don't know where the difficulties will lie. "It can sound great on paper, but then you realize it doesn't work well for your business," adds Drobish. Her provider's greatest appeal was its flexibility—if difficulties arise, they work together to adapt. For Holmes, "having access to three owners at the company," as well as "accessibility to data, XML Web services, and generating ad hoc queries on the fly" were key factors on the final decision.
Ideas for Effectiveness
During Drobish's first days at NewBay, she received an invoice from her provider charging the company three times the normal amount for inbound response. "The vendor told me they were printing out Web orders and reentering data by hand," says Drobish. "This was how past contracts were negotiated to 'cut costs.'" When asked to deliver real time reports, it took her former provider three weeks via snail mail. Drobish's invoice analysis helped her to catch a flaw in the provider contract quickly and efficiently.
For Holmes, outsourcing allows her to operate at a higher level. "I'm not fretting. I'm thinking more about our growth plan—'Can I do this direct mail?'" Holmes likens outsourcing to constantly having a marketing person at your disposal. "Now my core focus is circulation and consumer marketing—I don't want or need to reinvent fulfillment technology."
Meet the Author
---