If you're seeking a model for an independent B2B media brand's profitable transition from trade magazine to multi-platform business information and marketing services provider, look no further than Chief Executive magazine.
Since purchasing the title in 2009, self-described "serial B2B media entrepreneurs" Marshall and Wayne Cooper have dramatically diversified the business, augmenting it with a paid peer network, research products, and paid conferences, among several other offerings.
Advertising and sponsorships, which once accounted for 100 percent of Chief Executive's revenue, are now just about one-third of the business — although they continue to grow.
What's more, in an age where diversification is generally code for reducing reliance on a floundering print product, Chief Executive's print magazine is up 34 percent in revenue this year.
It's all about transitioning from a media brand to a full-service collaborator, able to reach a qualified, highly valuable audience of business executives in as many places and with as much precision as possible, according to Marshall Cooper, who serves as CEO and publisher.
"We keep slicing and dicing the market, understanding it better and better, and providing targeted products and services to niches within that audience," Cooper tells Folio:.
Several years into the Coopers' ownership, the next step in ensuring Chief Executive's continued evolution was bringing together a disparate set of mechanisms for acquiring audience data – print magazine fulfillment, event registrations, email newsletter subscribers — into a unified audience database.
"We're now developing our own database of CEO's," continues Cooper. "We used to rely on outside lists and directories, but we came to understand that those were highly unreliable. They weren't dynamic enough."
To bring it all together, Cooper's team partnered with an outside SaaS provider, but also hired four in-house database management staffers to track CEO moves and conduct market research — even diving into U.S. Census records.
The result is that Chief Executive can now not only segment its audience by market or company size, but by context, behavior, and consumption habits.
"We can now see what types of content matter to individual segments of our audience, and deliver it to them," adds Cooper. "CEO's are the most demanding market there is. They have very short attention spans. If you're not relevant fast, they'll go away."
Of course, highly targeted, desirable audience segments are only as valuable as the content — and ad products — a brand is able to deliver to them.
Earlier this year, Chief Executive welcomed back former SVP and executive editor Mike Winkleman as the brand's fourth editor-in-chief in nearly 40 years, succeeding longtime head editor J.P. Donlon, who now serves as editor-in-chief emeritus.
With Winkleman in charge of content strategy, the brand has shifted its focus to unifying its many distribution channels into a more integrated system that allows for ad campaigns to be customized not only by audience segment, but by product mix.
"Instead of saying, 'Do you want to advertise in our magazine or sponsor our event?', we're able to say, 'What are your goals? What are you trying to achieve here?'" Winkleman tells Folio:.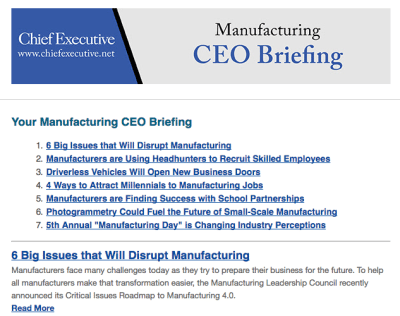 To facilitate the shift toward selling more made-to-order, integrated packages, just about every content channel is being overhauled. Both the print magazine and website are due for makeovers early next year, as well as the brand's growing portfolio of email newsletters — many of which are tailored to specific market segments, such as manufacturing.
Chief Executive's branded content studio is working harder than ever before, producing not only sponsored content or native advertising, but also podcasts, webinars, and white papers.
"It really becomes an advisory service," Winkleman continues. "What we understand, by virtue of what we do, is how to reach CEO's, how to tailor messages to CEO's. It's a consultative process, whereby we sit with [advertisers] and review their content, and are very frank with them about what works for this particular audience."
The result is the capability to up-sell and cross-sell like never before. Sponsored surveys become white papers. White papers inspire webinars. Webinars generate interest in sponsored roundtables at events.
"Everything builds upon itself and is much more interwoven — and it's customized," adds Winkleman.