Checking the Golden Gut

An audience tracking tool reveals how online stories pull in realtime.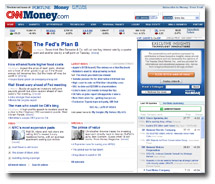 In the hyper-analytical world of digital media, audience behavior is a critical measurement. An editor's sense of what stories will most likely appeal to the widest audience is one thing, but what if you had a tool that could measure, in realtime, which homepage headlines are hot and which are not? CNNMoney.com developed a proprietary solution that does just that. Throughout the day, editors can check the headlines and see which ones are pulling the most readers. It's a simple insight, but one that arms editors with a powerful sense of what readers want to see.
Developed by the IT team at CNN, the audience tracking tool, called Realtime Monitor, measures which headlines are pulling the biggest audience. There are other tools that measure traffic at an article level-from off-the-shelf software to larger Web site infrastructure solutions-but Chris Peacock, CNNMoney.com's VP and executive editor, suspects none measure that traffic in realtime.
Realtime Monitor displays color-coded numbers next to each headline that represent a percentage of views relative to the number of headlines on the page-red is hot, blue is cold and green is neutral. If an editor clicks on a number, they can also see how that story trends over time. "What we do, like with all metrics, is use this as a guide in how we stack our homepage headlines," says Peacock. "All editors think they have a golden gut. And this is a way of confirming or denying that."
Story order can be altered according to popularity, others can be written on topics that have pulled well over time, but at the end of the day, it's only a guide. "It's certainly not a rule on how we program the page, because if the Dow is down 400 points and it's not pulling strongly, we're still going to run it as the top story because it's still a big story," says Peacock.
Meet the Author
---