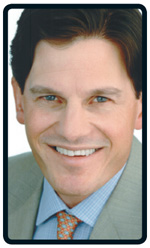 After a flood of b-to-b bankruptcies and violated covenants, McCurdy's $287 million sale of Canon to UBM was finally an example of a b-to-b owner getting something out of the business he built up. 
In the largest deal of the year for both b-to-b publishing and the tradeshow industry, United Business Media acquired medical industry publisher and events producer Canon Communications for $287 million in 2010. However, the importance of the deal wasn't just the size, but the fact that Canon CEO Charlie McCurdy was one of the few b-to-b execs to make real money on a sale in recent years, rather than being forced to sale out of desperation. 
"[UBM CEO] David [Levin] and I have known each other for quite a while and the conversations eventually evolved into negotiations to buy Canon," McCurdy told FOLIO: about the deal last fall.
Canon's principal focus is on the medical device design and manufacturing and electronics engineering markets, which combined make up more than 65 percent of its overall revenues. The company, which generated $106 million in fiscal 2010, publishes 24 industry magazines, which represent about 35 percent of its annual sales. Nearly half (48 percent) of its revenues come from the more than 40 tradeshows it produces each year in the U.S., Asia and Europe. The tradeshows were of the biggest interest to UBM, which plans to leverage the shows to break into "fast growth markets" like China, India and Brazil.
UBM initially merged the electronics brands acquired from Canon Communications with its existing EE Times Group but in December reversed course and decided to detach the units, creating two new groups instead: The UBM Canon Group and the UBM Electronics Group.
The former Reed Business Information electronics products, acquired in February 2010 by Canon, were separated from other Canon businesses and merged with the EE Times Group to form UBM Electronics.
Today, McCurdy is focused on his role as CEO of Apprise Media, the private equity investor that built up Canon. "Looking at the Canon model, I am confident that the future of b-to-b media is very bright for those who can succeed in creating—and leveraging— robust, interlinked data-fields in all dimensions for the industries they serve," McCurdy says.

VITAL STATS: Canon's $287 million sale made it the largest b-to-b publishing and tradeshow deal of 2010.