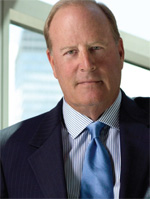 Condé Nast's recovery far outpaced that of the broader economy in 2010.  By every measure, we exceeded our expectations, enjoying double digit growth in revenues.  Ad pages and share are up, and our circulation vitality and growth is unmatched.  On that very strong foundation, we've built a thriving digital business—our digital ad revenues alone have grown over 25 percent so far this year.
A year ago, we were the first to introduce a reader app for the iPhone and we continue to enjoy a leadership position with almost half a million downloads of our five digital magazine editions—GQ, Wired, The New Yorker, Vanity Fair, and Glamour—to date. In less than a year, this business is already in the black and will grow exponentially in the year ahead.
In 2011, spending on digital media will only escalate as new devices gain scale.  We are poised to participate in that growth through our unique digital assets, and our newly integrated go to market sales structure.
A CEO's primary challenge every year is generating top line growth while increasing profitability. 2011 will be no different in that respect.  We expect to produce solid revenue growth while holding onto the efficiencies established through the recession, thus enhancing profitability.
Condé Nast recently identified and realigned around three fundamental guiding principles:
First, broaden our touchpoints with the consumer, and monetize that relationship with them in new ways.  The proliferation of digital devices and distribution platforms provides trusted content providers with the unprecedented opportunity to build broad and deep brand relationships with consumers. It opens up consumer marketing revenue streams that take the inordinate pressure off the advertising market as the underpinnings of this business.
Built into this statement of consumer centricity is the acknowledgement that it has to be technologically supported in today's world.  We can't do it through the mail.  We have to attract, enable and reward "point and click" transactions that extend our sphere of influence with the consumer and grow revenues.
Second, enlist our editors and publishers as brand strategists and managers. Our titles are some of the strongest brands in media. We are broadening the influence of those titles as brands by encouraging and incentivizing our editors and publishers to collaborate across all formats in driving the growth of their business.
Third and finally, our clients and their agencies want seamless, comprehensive access to the breadth of our media properties and capabilities. That is why we recently integrated all digital and print sales and marketing activities at both the corporate and individual brand level.
It's become ever more important. In a flood of undifferentiated commentary, the value of content curated by the finest editors on earth only increases. Clearly, user-generated content informs and influences what we produce, and we embrace every opportunity to build communities around our brands through our Web sites, blogs and social media applications. But our brands are so valuable—and ever more so—specifically because they are the long revered voice of experience, expertise, and authority in every lifestyle category they serve.
Desiree Rogers, CEO, Johnson Publishing
Henry Blodget, editor-in-chief and CEO, Business Insider
Don Pazour, CEO, Access Intelligence
Brian Rowland, president, Rowland Publishing

Greg Loewen, president, Emmis Publishing

Peter Johnson, CEO, Mining Media International

Ed Gillette, president and CEO, Scranton Gillette Communications
Bill Holiber, CEO, U.S. News & World Report and New York Daily News