'Change is Only Good if Your Life, or Your Business, Sucks'

Sound bites from the 2010 American Magazine Conference.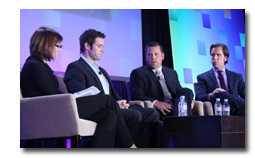 As consumer magazines continue to dig their way out of the economic recession, several hundred top managers across the industry gathered in Chicago early this week for the MPA's American Magazine Conference to talk about the issues facing their business and the tactics for overcoming them.
The speaker lineup included Barnes & Noble CEO Howard Shultz, Hulu CEO Jason Kilar, Wired creative director Scott Dadich, "The Facebook Effect" author David Kirkpatrick, Oprah Winfrey and many more. Much of the discussions surrounded the impact of e-readers and tablets—especially Apple's iPad—on the magazine market. Other conversations focused on not focusing too much on the iPad and its impact on the industry.
During the event's kick off, incoming CEO Jack Griffin outlined five industry goals he called "principles of success." (See more about those here.) Hulu's Kilar discussed the success he's seen in media while VivaKi chief strategy and innovation officer Rishad Tobaccowala (great name, great keynote) talked about how the future of magazine/media "does not fit in the containers of the past."
And while all the content was going on, there was a decent amount of chatter happening behind the scenes on Twitter by attendees. Here, I've assembled a collection of some of those Tweets (including some of my own) that I thought captured the best sound bites and perspective. See them below, in reverse chronological order.
[Image via MPA]

@SaraOhrvall: Best #amc2010 advice by @oprah: "If you want to start a successful magazine, you need a powerful initial. Like an O." What about S?
@jwfell: When asked what she knows for sure Oprah laughs. "I'm always on deadline. I don't know anything for sure." #AMC2010
@HSKsearch: "Stay connected to the people whom you are serving and where they are!" Oprah on how to thrive as a business #amc2010
@mpamagmedia: Oprah #amc2010 Being true to yourself is what makes a brand.
@jwfell: Oprah "wrestles" with appearing on the covers of O, wonders if she will stop. #AMC2010
@JLBurke: Oprah: in the beginning was the word. Interesting Biblical phrasing. #AMC2010
@JLBurke: Oprah's new network founded in excellence of O magazine #AMC2010
@petercipollone: Time CEO Jack Griffin is a fellow lefty…taking written notes next seat over. #amc2010
@EllieBehling: Mags need to think more about making content Facebook sharable — even down to the postage picture, says Facebook Effect author #AMC2010
@HSKsearch: What a change: magazine publishers focused on readers and distribution, very little talk of ad revenue this year #amc2010
@richgor: Must-have tool, says Dadich of Wired: Canon 5D, digital SLR that also shoots HD video. #amc2010
@richgor: Hercik of SI: editors overflowing with iPad ideas, asking "can we…?" "Usually the answer is no." #amc2010
@maxapotter: and they will. RT @EllieBehling: The reader should forget what platform they're using. — William Lynch of Barnes & Noble #amc2010 #magazine
@richgor: Hercik of SI: for weekly mag, we design print and iPad app at same time, close iPad production one day after print. #amc2010
@jwfell: Lynch: B&N not pulling back on physical magazine newsstands. Plan to move them closer to digital areas, cafes. #AMC2010
@jessicakleiman: You need to be careful not to follow the latest shiny object, says B&N's William Lynch when asked about the iPad, but I'm a fan. #AMC2010
@HenkScheenstra: Tobaccowala: Media companies should think of DAD. What if: your business/ products were Disaggregated, Accelerated and Distributed? #AMC2010
@jwfell: Tobaccowala: While tech evolves, people 'still want to talk,' to discover; they want content that's curated and easy to find. #AMC2010
@HenkScheenstra: Rishad Tobaccowala (Chief Strategy & Innovation Officer at VivaKi) best key note of the day #AMC2010
@jessicakleiman: Leadership is a task, not an identity @rishadt #AMC2010
@jwfell: VivaKi chief innovation officer Rishad Tobaccowala: key to evolution is a biz model completely diff from what's made $ in the past #AMC2010
@SaraOhrvall: The truth of today at #amc2010? Rischad Tobaccowala at Vivaki: "change is only good if your life, or your business, sucks."
@jwfell: Want to know what your brand really stands for? Hulu's Kilar says search your co. name on search.twitter.com for what ppl r saying #AMC2010
@SaraOhrvall: Hulu CEO about Huluplus at #amc2010: "Trust your belief. Don't act according to research, it will always result in free rather than paid."
@jwfell: Can't the same be said by us all? Hulu CEO: "I consume more media today than any other time in my life." #AMC2010
@mpamagmedia: New blog post on research from MagazineRadar on the story behind the mag ad rebound #amc2010 http://bit.ly/amcblog
@jessicakleiman: I see a lot of iPads at American Mag Conf #AMC2010
@emediavitals: "Learn to use the 'new.' Social media needs to be authentic." Robots don't do compelling social media. #amc2010
@emediavitals: Long tail: 65% of MPA member advertising is coming from 20% of advertisers. Not the 80/20 rule. Oppty: target small advertisers. #amc2010
@EllieBehling: Adobe's Dan Baum says publishers have to stand up to mobile delivery platforms."Don't succumb to the walled garden world." #amc2010
@jwfell: On tablets: When was the last time our industry has seen such a burst of focus and creativity?
@jwfell: Jack Griffin: embracing new tech, rev streams, magazine industry biz model desired by "everyone else"
Meet the Author
---