CEO Still Mum on Plans for e5 Media Brands

What's in store for The Hollywood Reporter, Billboard, Adweek, etc. ?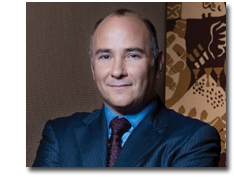 UPDATE: Hollywood Reporter Becomes Glossy Weekly
What exactly is going on at e5 Global Media? That's the question that's been at the top of certain people's minds since the private equity-backed media startup acquired Nielsen Business Media's eight media/entertainment industry brands late last year.
The new group—formed by Pluribus Capital Management and financial services firm Guggenheim Partners—poached Condé Nast's Fairchild Fashion Group CEO Richard Beckman [pictured] to lead the group as chief executive. When he took the new gig Beckman, who is known as "Mad Dog" among many of his colleagues, said it would be his job at e5 to build those acquired brands—including The Hollywood Reporter and Billboard—into "successful multiplatform properties with global footprints."
A number of "smaller" media companies like e5 are picking up print magazine brands that have either been shut down or run into the ground financially by their former big conglomerate trade publishing owners. But how do they expect to succeed where the publishing behemoths failed? How will they compete with their online-only rivals?
Not much has been reported about what's in store for the e5 brands, other than reports indicating plans to transition The Hollywood Reporter from a weekday paper into a glossy weekly. So, I attempted to interview Beckman for a story on this topic. I wanted to find out what changes/innovations he is making to help turn the brands around. How much of an additional investment will be required? How will those changes equal financial success?
Beckman politely declined to participate in my interviews, indicating that he'd have "plenty" of details in a couple months. To be fair, I'm not sure that many of these new owners have real concrete courses for growth—at least not yet.
Beckman however did recently do a Q+A with Daily Front Row executive editor and former Radar writer Chris Tennant. While he didn't get into any business-side specifics, Beckman did offer some interesting sound bites on the future of THR. Here's a sampling:
"If I'm setting the bar at where Variety is—and this is going to sound really caustic—I'm setting the bar too low."

"The good part is you get to look around and see people who ­clearly aren't doing their jobs so ­terrifically—that haven't had good leadership, that are unimaginative, that have had a parent company that hasn't invested or believed in the business…"

"But in terms of the Reporter, I sort of agree with you that it's tough to be contemporary with a daily print product when you're working on a five-minute-refresh cycle. It's not the best way of serving media content, but you can't have one without the other."

"It's about becoming B2I—business to influencer—as opposed to B2B. That's where the real resonance will be created. B2I trades aren't just for the industry; they're for the people that shape behaviors, the tastemakers that set the trends in motion."
Click here to read the entire interview.
Meet the Author
---