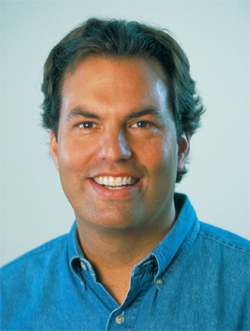 NXTbook
Michael Biggerstaff, CEO
480 New Holland Ave.
Lancaster, PA 17602
Phone: 866.268.1219
www.nxtbookmedia.com
What will the print-media industry experience in 2010? Will this be a year of cost reduction or growth?
Probably
like everyone else, we're looking forward to 2010. 2009 was a
challenging year for all of us, one full of difficult choices requiring
tough decisions. We truly believe, however, that what's left now is to
move forward with more focused, efficient partners. I think most of the
costs reductions are done, which means it's time to look at top line
growth once again. This time around, however, I expect we'll all be
keeping our hand on the pulse of the bottom line while we're pushing
revenues.
What one technology will be transformative?
We've said it before and I'll say it again: there is no one transformative
technology
on the horizon. There is no white horse that's going to save
publishing. What's going to save publishers is taking a hard look at
all of the available technologies and asking which of these will
resonate most with their audiences. From that point, it becomes a
question of deciding what you can do yourself and what you can afford
to outsource in the name of making a good ROI for advertisers and
engaging experiences for readers.
Will the Web be strategically central to the industry?
I
think in many ways, the Web already is at the center of what most of us
are doing, but this doesn't mean it's the most important thing—only
that this is where it's positioned. A wheel is as pointless without its
rim as it is without its hub. Many publishers make the mistake of
thinking that the central positioning of the website means that's where
all of their attention should be. Websites, thus far, have proven to be
miserable revenue generators and awful at holding reader engagement,
yet they're still the logical place to promote more profitable
extensions like digital magazines and tradeshows.
What skills do publishers need to succeed in this era?
Because
there are so many ways to use technology, publishers today have to be
able to look beyond the "shininess" of the new stuff to see exactly
what your particular audience cares about. Even if everyone's talking
about Twitter, if your readers don't care, you need to have the courage
to ignore it. Once you know what's important for your audience, you
need to find the professionals who can develop the tools your audience
wants to see from you.
Is this a great time to be an entrepreneur in this business or a terrible one? Why?
Anytime
is a great time to be an Entrepreneur. A true entrepreneur sees
opportunity no matter what the business climate. Entrepreneurs are not
swayed by the news or economic forecasts. They are driven by their own
belief in themselves to execute on their dream and do their best to be
successful. So yes, it is a good time, in tough economic times great
businesses are built. There is always a need for good ideas and if you
have one you can have a great business. People that use excuses to not
follow a dream or passion are really just not entrepreneurial at heart.