Celebrity, Fashion Magazines Collect Dust on Newsstands

ABC's FAS-FAX: Single copy sales drop through first half.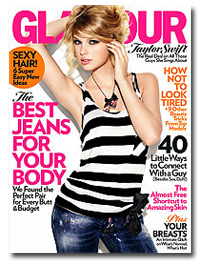 The Audit Bureau of Circulations today released its long-awaited FAS-FAX report for the first half of 2009. Not surprisingly, preliminary numbers showed that, of the more than 500 magazines reporting, overall paid subscriptions were flat, up about half a percentage point.
Single copy sales, meanwhile, were down 12 percent overall compared to the same six-month period last year. Notably, our beloved newsstand behemoths—celebrity and fashion titles—saw some of the biggest single copy declines.
In the fashion category, Condé Nast's W registered the biggest newsstand loss of the period, with single copy sales nosediving 21 percent (from 34,917 copies to 27,583). Time Inc.'s In Style followed closely with newsstand sales dropping 20.1 percent to 625,589. Condé Nast's Vogue, the category's newsstand powerhouse, saw single copy sales drop 7.8 percent to 1,616,908 copies.
Celebrity magazines didn't fare much better on the newsstand. OK! magazine—which announced today that it is reducing its rate base to 800,000 from 900,000—saw newsstand sales fall 20.4 percent to 398,360 copies. Time Inc.'s Entertainment Weekly posted the only newsstand growth with single copy sales climbing a modest 0.9 percent. Overall circ., however, dropped 1.9 percent to 1,779,537.
Although they don't rely heavily on newsstand sales, the newsweekly and business/finance categories also saw their share of single copy losses. Money magazine, which actually sells a significant number of copies on the newsstand, saw single copy sales drop 33.9 percent to 67,275 (down from 101,770). Among the decliners in both categories, only BusinessWeek, The Economist and Inc. didn't post double-digit declines.
Among the gainers, The Week saw single copies skyrocket 131.3 percent, but up only to 4,209 copies from 1,820. U.S. News & World Report (although no longer technically a newsweekly) saw a 27.4 percent spike in newsstand sales while its overall circulation dropped 25.3 percent to 1,365,652 copies.
Here's a look at single copy sales, category-by-category, through the first six months (per ABC):
| | | | |
| --- | --- | --- | --- |
| FASHION | 2009 | 2008 | % CHNG |
| Allure | 190,333 | 228,667 | -16.8 |
| Cosmopolitan | 1,616,908 |  1,753,732 | -7.8 |
| Elle | 291,577 | 332,167 | -12.2 |
| Glamour | 589,665 | 685,633 | -14.0 |
| Harper's Bazaar | 145,445 | 167,291 | -13.1 |
| In Style | 625,589 | 783,254 | -20.1 |
| Lucky | 198,583 | 237,750 | -16.5 |
| Marie Claire | 263,444 | 289,668 | -9.1 |
| Vogue | 374,750 | 385,500 | -2.8 |
| W | 27,583 | 34,917 | -21.0 |
| | | | |
| --- | --- | --- | --- |
| CELEBRITY | 2009 | 2008 | % CHNG |
| Entertainment Weekly | 40,494 | 40,147 | 0.9 |
| In Touch Weekly | 745,123 | 905,092 | -17.7 |
| Life & Style | 478,788 | 519,388 | -7.8 |
| OK! | 398,360 | 500,520 | -20.4 |
| People | 1,319,350 |  1,512,476 | -12.8 |
| Star | 601,115 | 701,318 | -14.3 |
| Us Weekly | 843,479 | 869,364 | -3.0 |
NEWSWEEKLIES
2009
2008
% CHNG
Newsweek
64,866
82,756
-21.6
The
Week
4,209
1,820
131.3
Time
100,382
95,950
4.6
U.S.
News
40,304
31,640
-35.1
BUSINESS/FINANCE
2009
2008
% CHNG
BusinessWeek
27,953
29,917
-6.6
The Economist
62,491
66,888
-6.6
Entrepreneur
38,692
42,981
-10.0
Fast
Company
24,659
30,085
-18.0
Forbes
27,172
32,096
-15.3
Fortune
25,409
35,789
-29.0
Harvard
Business Review
27,253
32,326
-15.7
Inc.
26,000
21,775
6.9
Kiplinger's
30,731
44,407
-30.8
Money
67,275
101,770
-33.9
SmartMoney
31,886
49,133
-35.1
Meet the Author
---