Celebrity Byline Hunting: Glamour Taps Katie Couric as Contributing Columnist

Condé Nast title the latest to announce a big name editorial contributor.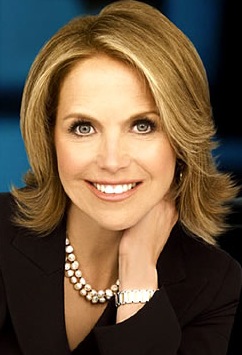 Another magazine publisher has tapped the power of the celebrity byline.
The latest: Katie Couric, anchor and managing editor of CBS Evening News With Katie Couric, was named a monthly columnist at Condé Nast's Glamour magazine. Each month, Couric will write a Q+A on a subject—an athlete, musician, politician, you name it—who she thinks is inspiring to women and girls.
Couric [pictured] is going straight to the top for her first column, to be featured in the December issue: First Lady Michelle Obama.
"It's not just that she's a dominant figure in news to them, which she is," Glamour editor-in-chief Cindi Leive said of Couric, "it's that she has the human touch it takes to get into the personalities behind the news, and that makes her perfect for Glamour readers."
Glamour isn't the only magazine to turn to a celebrity editorial contributor in recent weeks. Earlier this month, O, the Oprah Magazine named regular Oprah Winfrey Show guest and health expert Dr. Mehmet Oz as a contributing editor.
Like her or not, Couric, who also recently launched a new Web show, is an award winning journalist. Dr. Oz, for his part, is a cardiac surgeon and a trusted voice in the medical/media world (Dr. Oz landed his own TV talk show, too).
But to what extent are these appointments about editorial substance and credibility? Or, are they about making money?
I mean, celebrity sells, right? (Or, does it?)
The most egregious of these recent appointments, without a doubt, was OK! magazine's naming Kim Kardashian a contributing beauty editor. They even threw the celebutante (what is she famous for, anyway?) a swanky welcome party at New York City's Griffin lounge. (See pictures here.)
The OK! editorial team isn't really going to let Kardashian write anything, is it?
Meet the Author
---