CEIR: Exhibition Industry Growth Slows in Third Quarter

The industry grew just 0.9 percent in Q3—down from 1.7 percent in Q2.
*Editor's Note: This story originally appears on FOLIO: sister site, EXPOWeb.com.
Exhibition industry growth slowed in the third quarter after posting strong gains in the first half of 2012.
According to the Center for Exhibition Industry Research (CEIR) Index, the tradeshow industry grew just 0.9 percent in Q3—down from 3 percent and 1.7 percent in Q1 and Q2, respectively—as the possibility of another economic crisis looms on the horizon.
"Concern about the fiscal cliff and the global economy has continued to take a toll in the exhibition industry," says Allen Shaw, CEIR economist and chief economist for Global Economic Consulting Associates, in a statement. "The exhibition industry continues to grow, but attendees and exhibitors are being cautious."
For the second quarter in a row, growth rates ran below GDP.
Attendance, a leading indicator, suggests that spending may continue to dwindle after sharp cuts in the third quarter. After 4.8-percent and 3.3-percent growth in the previous two quarters, attendance increased just 1.1 percent in the third quarter.
Net square footage (down 0.1 percent from Q2), exhibitors (up 0.2 percent from Q2) and revenues (up 0.4 percent year-over-year), each remained relatively flat.
See Also: CEIR Index Releases Optimistic Report on Exhibition Industry
On a positive note, the report does suggest an overall industry-wide recovery continues: It is the ninth consecutive quarter of positive growth following nine consecutive quarters of decline.
"The good news is our industry continued the chain of nine consecutive quarters of growth," says Doug Ducate, CEIR president. "While the rate slowed to 0.9 percent after 3 percent in the first quarter and 1.7 percent in the second quarter, we are still on a positive growth track."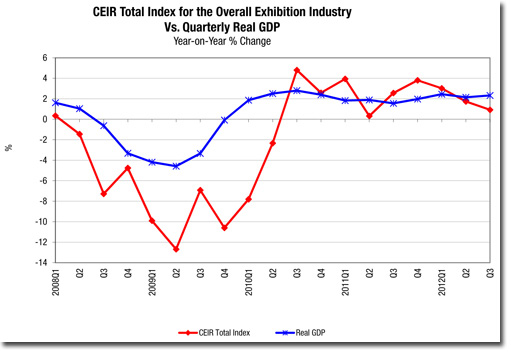 Meet the Author
---