CBS Corp. Takes Full Ownership of TV Guide Digital

Lionsgate sells its remaining 50 percent share.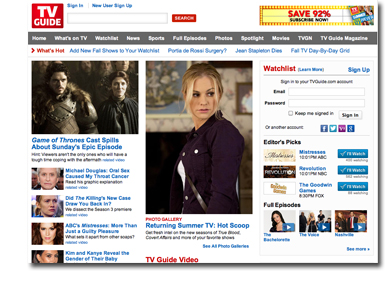 About two months after CBS and Lionsgate entered into a 50/50 partnership deal over the TV Guide Network, CBS Corp. is now taking a full stake in TV Guide Digital.
The joint venture deal that CBS and Lionsgate put together in late March for TV Guide Network is ongoing—this latest deal makes CBS Corp. the outright owner of the digital assets, including TVGuide.com and TV Guide Mobile.
The
Network deal, which CBS paid a reported price north of $100 million,
bought out the ownership interest held by JPMorgan Chase's private
equity group One Equity Partners.
According to the company,
TVGuide.com attracts 16.5 million monthly uniques and the TV Guide
Mobile apps have been downloaded more than 9 million times and have 2.5
million monthly users.
Its mobile products drew attention for the incorporation of the social Watchlist feature, which allows users to keep track of when their favorie programs are aired.
TV Guide Digital will be housed under the CBS Interactive Technology, Games and Lifestyle group.
The
TV Guide platform has a convoluted history. Former owner Macrovision
sold TV Guide the magazine to OpenGate Capital in 2008 for $1.
Macrovision kept TV Guide Network and TVGuide.com, later selling them to Lionsgate in early 2009 for $255 million after negating a previous agreement to sell them to One Equity Partners for the same price.
Five months later, Lionsgate turned around and sold half its ownership of TVGuide Network and TVGuide.com to One Equity Partners for $123 million in cash.
Meet the Author
---