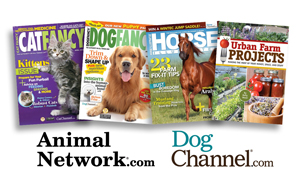 A newly formed joint venture between Mark Harris, co-founder and co-owner of National Publisher Services (NPS), and David Fry, chairman of NPI Ventures LLC and CTO of Fry Communications, called I-5 Publishing LLC has acquired the books, magazines and websites of special interest publisher BowTie Inc.
Terms of the deal were not released, but Harris and Fry ballparked it at $10 million-plus. Included in the sale are Cat Fancy, Dog Fancy, Pet Product News International, Horse Illustrated, Urban Farm, AnimalNetwork.com, DogChannel.com and books like Dog Heroes of September 11th and The Original Dog Bible.
I-5 Publishing LLC, Harris and Fry's new venture, is the latest in a series of professional partnerships between the two executives and their respective companies—NPI Ventures owns 50 percent of NPS, which acquired Circulation Specialists Inc. in 2011, as previously reported by FOLIO:.
"BowTie uses Fry as one of its major printers so we've had a longtime relationship with BowTie and we understand their business fairly well from that standpoint," says Fry. "Mark and I saw an opportunity to get together and apply some of the resources we have and see what we can do to improve the results that these titles have had over the last five years or so. We want to improve print and digital, and find new opportunities to take resources here at the company and apply them to new brands."
In addition to being a client of Fry, BowTie was also a client of NPS for several years. I-5 Publishing is headquartered in Irvine, CA, with offices in Los Angeles, CA, Lexington, KY and Chicago, IL. Fry and Harris say that the majority of the staff from the BowTie properties will be maintained.
"We're thrilled to see this opportunity come about," says Harris, who has been appointed interim CEO of I-5 Publishing. "We seek to expand content and make it available on all platforms. We believe in further investing and bringing in more expertise to the company to help raise the bar for us."
I-5 Publishing also announced that Daniel Ambrose, managing partner of Ambro.com, has joined the I-5 executive team as chief strategy officer of digital and advertising. Harris and Ambrose will be joined on the executive team by former BowTie executives Nicole Fabian, chief financial officer, June Kikuchi, chief content officer and Dolores Whitlo, VP of consumer marketing.
"We'll be looking at growing topline revenue with brand extensions and the introduction of new products," says Harris. "We're open minded to partnerships, which will be a big priority, as well as further developing the existing digital strategy. We think there is a very large opportunity there."
Stay updated on the latest FOLIO: news, follow us on Facebook & Twitter!