Cat Fancy Makes Bid for 2009 Ellie, Pulitzer

June article suggests possible link between animal trafficking and terrorism.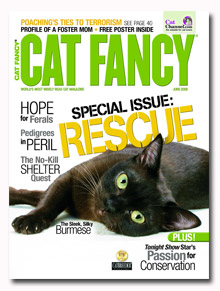 Just because you're an editor at, say, Cat Fancy, doesn't mean you shouldn't aspire to do the kind of hard-hitting, investigative journalism that wins Ellies and collects Pulitzers.
This story, you might say, is their fur-covered Watergate:
June Cat Fancy Article Suggests Possible Link Between Animal Trafficking and Terrorism

IRVINE, Calif., April 24 /PRNewswire/ — A June Cat Fancy article, to hit newsstands on April 29, 2008, suggests a possible link between animal trafficking groups and terrorism. The article titled "Poaching's Criminal Element" outlines the intricate illicit underground activities of animal trafficking groups in many parts of the world, including the United States, and how these affect species population and Earth's ecologic balance. Surprisingly, the article also describes a clear and direct link to organized crime groups with possible ties to terrorism.

Focusing mostly in the trafficking of felines, the article highlights important worldwide animal issues such as the extinction of tigers in Asia, because of human killings. The piece cites astonishing numbers when describing the reductions of tiger population. It also explains how many of the conservation organizations take different approaches to capture poachers (animal traffickers) and organized criminal groups, from plain investigative work to extensive educational efforts.

This insightful editorial piece is authored by Brad Kollus, an award winning freelance writer specializing in the human-feline bond and Susan Logan, editor of Cat Fancy and CatChannel.com.

Cat Fancy is the world's leading cat publication. It entertains and informs responsible cat owners with the information they need to help their cats live long, healthy and happy lives. For the complete story on animal poaching, pick up the June issue of Cat Fancy.

To schedule an interview with Cat Fancy's editor contact Lisa MacDonald, marketing director, at XXX.XXX.XXXX extension XXXX.

About BowTie, Inc.

BowTie, Inc. is the leader in special interest pet magazines, trade magazines, books and websites dedicated to pet-loving consumers, pet-supply retailers, veterinarians, breeders, and pet professionals worldwide. Divisions of BowTie, Inc. include BowTie Magazines, BowTie Press, BowTie News, Thoroughbred Times Company, Global Distribution Services, and AnimalNetwork.com.

Source: BowTie, Inc.
Meet the Author
---