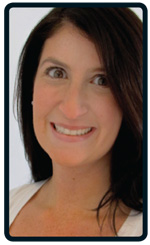 Troiano oversees all merchandising, purchasing, product development and design and marketing for the company's e-commerce stores which reported revenues of $26 million for 2010.
The Knot, Inc, is a media company devoted to weddings, pregnancy and all associated events.  The family of brands began with the industry's leading wedding brand, The Knot, and has grown to include WeddingChannel.com, The Nest and The Bump. The company depends on four major revenue categories: online sponsorship and advertising, registry services, merchandise and publishing.
"The Knot was founded in 1996, and we found pretty shortly thereafter there was a need to offer brides products that would fulfill their needs overall," says Troiano, explaining the company's continuing and ongoing emphasis on online media and e-commerce.  "We're really expecting to see a big growth in e-commerce over the next few years in our e-shops."
Last year, the company launched The WeddingChannel.com Deals platform in 40 markets, offering Groupon-like discounts for its online readership and expanding its relationships with wedding-related vendors. The company also launched The Knot Weddings Magazine app for the iPad.
"The i-Pad App won an Appy award for the Best Magazine Application. It spotlights the best part of The Knot, the social dimension, and what the readers like the best about the magazine," explains Toriano. "The app let us show a lot of enhanced product images and really created a lot of community."
Troiano explains that the products offered in the company's e-hops have a tie-in to the editorial content: "We think about how to optimize our content all the time. And we always have content that is relevant to the product. We also have a weekly Web-based TV show that does the same, and we use the magazine, the Deals platform, e-mail marketing, Facebook and the Web sites to drive sales."
In order to maintain contact with their audience, either Troiano or her marketing team read and respond to the message boards, bulletin boards and Facebook postings, when appropriate.
VITAL STATS: The Knot reported net revenue of $112.9 million in 2010, a 6% increase over 2009. 23% of revenue was attributed to e-commerce sales, and local and national advertising was over 50% of revenue.