Casey Caplowe

Creative Director | Good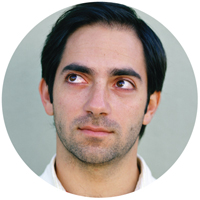 With the tagline "a magazine for people who give a damn," Good, the three-year-old for-profit magazine with a bootstrapping, non-profit ethos, has become known for doing things a little differently than most start-ups in the consumer magazine space. The magazine's "Choose Good" campaign donated 100 percent of its subscription revenue to nonprofit organizations. (Since launching two years ago, Good has donated more than $850,000 to global non-profits, the company says.) Good struck up a partnership with Starbucks to publish the Good Sheet, a weekly newsprint publication featuring content the companies say will "bring Americans together to talk about issues that matter."
Its most recent experiment was a "recession issue" that was a full 80 percent smaller than its other issues. (The 5-by-7 inch April issue—just 8 pages, compared to its usual folio of 116 pages, and carrying just one ad—saved the magazine roughly 75 percent on production costs.) All of which has helped the magazine grow its circulation from 25,000 to 60,000 since its launch in 2006.
But what really sets Good apart, and is the common denominator throughout these out-of-the-box publishing experiments, is its design, led by creative director Casey Caplowe, which is partly why Good won four FOLIO: Ozzie awards in 2008 for magazine design.
The magazine notably won the best cover design for its design issue which featured a stark orange cover with the outline of an AK-47 assault rifle and the cover line, "Is There Design This Good That Doesn't Kill People?"
For Good to survive—and thrive—however, it may take more than a fresh approach to the business. Founder Ben Goldhirsh has been charged with making Good profitable—and quickly.
"Within a five-year timeframe, we hope to emerge as a lifestyle brand that provides content through digital and print media," Goldhirsh says. "I would not estimate the numbers, but we hope to achieve profitability in that timeframe."
VITAL STATS: Good's circulation has grown from 25,000 to 60,000 in less than three years.
Meet the Author
---