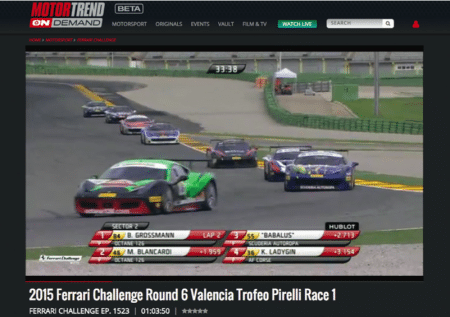 While direct consumer revenue is certainly nothing new in magazine media, some sources, like newsstand sales and subscriptions, are declining, with many publishers increasingly seeing them pale in comparison to advertising revenue. For TEN: The Enthusiast Network, publishers of Motor Trend, evolving in today's climate meant balancing the scales by finding new ways to monetize a widespread, passionate, and loyal audience of car enthusiasts.
"One of the most important things we can do is evolve our business model into a more balanced, two-tier revenue stream that's based on not just ad revenue, but having a direct relationship with the consumer and garnering a greater portion of our total reve- nues through that relationship," says CEO Scott Dickey.
When 21st Century Fox made the move in 2013 to convert motorsports cable network Speed into Fox Sports 1, TEN saw a void in the market—and an opportunity. There was the Tennis Channel, the Golf Channel, but no 24-hour broadcast destination for automotive enthusiasts.
Motor Trend already had the largest automotive channel on YouTube, complete with original programming. For TEN, the opportunity to attract that vast audience, as well as its own readers, to a metered, paywall environment was simply too great to pass up.
"We've got 6.5 million print subs, 3.7 million YouTube subscribers, 100 million social followers," Dickey says. "We believe that we can create a proposition to the consumer that is highly attractive for them to invest $60 a year—$4.99 a month—to subscribe to this automotive video destination."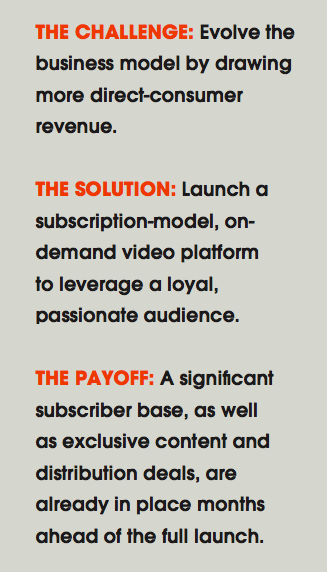 Thus, Motor Trend OnDemand was born.
"We've aggregated not only the very successful original programming that we've developed on YouTube and the audience there, but we've now got the largest collection of motor sports rights, archival content, documentaries, and films amassed in the world," says Dickey. "We essentially have created Netflix for gearheads, and we're pretty bullish on our potential."
The planning process that culminated in an early November beta launch of the platform—a full launch is slated
for March, but Dickey emphasizes that the platform is currently fully open and operational—was divided into three simultaneous tracks: programming, marketing, and technical development.
"You've got a lot of different platforms you're trying to serve, so the technical development is probably the largest challenge," Dickey continues. "We're very far down the line in positive conver- sations with Amazon Prime, Apple TV, and Roku for distribution. We'll see that come to life here in March and April, and we're very excited about that."
As for programming, Dickey says about a third of the content is 100% original, produced by the team that generates content for Motor Trend's YouTube channel, as well as for networks like CBS Sports. Another third will be archival footage; TEN recently inked a deal with Formula One, gaining the rights to race footage going back as far as 1990. The last third will come from exclusive North American distribution deals for live motorsports.
The jury's still out as to whether or not the new channel—an eight-figure investment—will be a success for TEN, but Dickey says initial feedback has been very positive.
"We came out on Black Friday with a big push, and we had some real success with subscriber uptick into the new year," Dickey says. "We've quieted now as we're ramping up the marketing strat- egy and coming into full distribution with Amazon and Apple and Roku."
As more and more consumers shift away from traditional linear channels toward on-demand services like Netflix and Hulu, enthusiast publishers could be well-suited to attract them through both brand recognition and their own digital video content.
"We intend to stay out in front of the market," adds Dickey. "We believe that the consumer is looking for opportunities to cut the cord, and authors like Motor Trend OnDemand are going to help accelerate that decision."