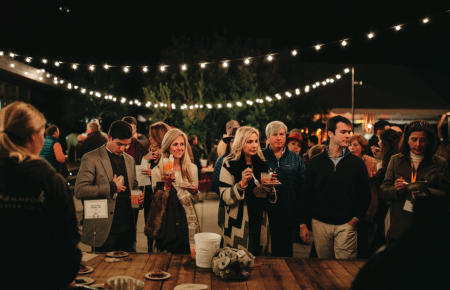 For Garden & Gun, a nine-year-old brand that brings Southern life and culture to a passionate and rapidly growing audience throughout the U.S., fostering a community of readers through branded live events has always been an integral part of the revenue picture. As the brand's reach eclipsed one-million total readers across print and digital, however, the membership-based Garden & Gun Club model was no longer cutting it.
"People had a membership and they paid a fee to become part of this club and they would get invited to come to our events," says VP and publisher Christian Bryant. "It was a great model, it was exciting, but it was too inclusive to just a small group. Our audience was growing and we wanted to start doing more."
Crucial to achieving that end was Garden & Gun's deep knowledge of its audience—a trait inherent in enthusiast publishing. They knew their subscribers loved to travel and were generally affluent—average household income is $332,000. Most importantly, they knew their subscribers had a personal connection to the brand.
"The big challenge is, how do you grow an event, but keep it authentic?" Bryant says. "We're at the point of growing it, but also keeping it special. This is not something we want to just hand off to a production company, we want to make sure that we have our hands in any event that G&G has its name on."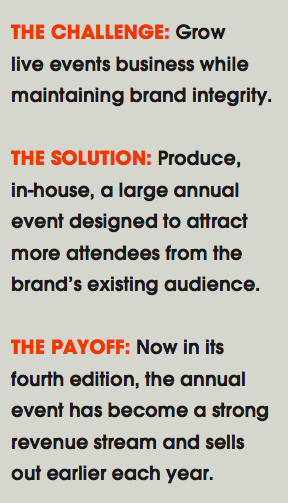 The solution was a big, annual, end-of-year event: Garden & Gun Jubilee, the first of which debuted in 2013.
"The planning process itself takes a full year, but it's an idea that we worked on for several years before the inaugural event," says Bryant.
That process included not only attracting attendees, the core of whom came from the former Garden & Gun Club, but in finding the right personalities, programming, and attractions.
"Our magazine is like a good cocktail party," Bryant continues. "You're going to meet interesting people, you're going to hear interesting stories, you're going to have great experiences. We had to make sure that the event was a direct reflection of that. Bringing in personalities who have been featured in the magazine, making sure our editors are there."
In the end, the inaugural Jubilee was a success to the point that Garden & Gun is already planning the fourth annual iteration, slated for December 2016, as well as a major 2017 edition to celebrate the brand's 10th anniversary. The ticketed three-day weekend in Charleston, South Carolina features concerts, barbecues, oyster roasts, beer and wine tastings—even dog training and fly fishing demonstrations.
Promotion begins in the summer, both in print and on GardenandGun.com.
"This past year we did something new where we went to Highland Park village in Dallas, and did kind of a press kickoff where we had a brunch with a chef from Charleston and invited people from Dallas, and it also coincided with a new direct flight that was happening from Dallas to Charleston."
According to Bryant, the event sells out earlier and earlier each year, even with premium ticket pricing as high as $85 per day, and it's become a major contributor to the brand's bottom line.
"This year, I think it sold out in October," adds Bryant, a full two months in advance.