Case Studies in Custom Publishing

Three publishers move beyond print to offer a total solution.
Defining the mission is always critical for a custom publishing project. Is the project about brand exposure? Customer conversions? Maybe even sales?
As custom projects take on more of a multimedia flavor, the overall mission of the project typically stays the same but now there is potential for much more involvement from the client side and much more direct feedback from the target audience.
The case studies presented in this feature reflect how three custom projects evolved from standalone print efforts to a new mission and a new target audience for the client. Rodale's custom unit talks about how it enabled Little Brown Book—a magazine for the 175,000 high-spending Bloomingdale's credit card holders—to break through the clutter for a heavily-targeted audience with award-winning design. On the b-to-b side, Everything Channel and Ingram Micro discuss how they've gone beyond the typical publisher-client relationship to become true partners in a multimedia, revenue-generating project. And Hammock Inc. repositions a 116-year-old brand for perhaps the biggest challenge for a consumer magazine right now—the newsstand.
SIDEBARS
Custom Matchmaking Site Hits Initial Goal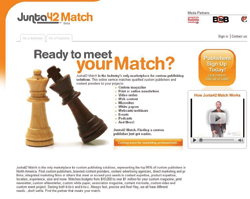 Custom content matchmaking site Junta42 Match reached its initial goal of 100 publishing members in early June, roughly three months after it beta launched in mid-March, and is set to open its doors to marketers by the time this issue goes to press.
The service—which, according to founder Joe Pulizzi, is based on a LinkedIn-style platform custom-built by Junta42—requires member publishers to complete profiles that list their areas of expertise and experience, including specific client and project history information. The profiles are audited by Junta42 Match via Web verification and, when necessary, phone calls. Marketers, who can access the site for free, will be able to search the profiles according to their needs and specifications.
The service costs publishers $400 per month or $4,000 per year and is designed, according to Pulizzi, to replace the lengthy and laborious RFP process which takes "anywhere from a couple days" to "a couple months," and "boil it down to 15 minutes."
McMurry To Launch Luxury Title
New magazine, called 6, will be advertising-supported.
As one of the largest custom publishers, McMurry is used to generating magazines for someone else. Now, the company is launching a magazine for itself. 6 (the name refers to six "passion points" of the readership: wealth, style, travel, design and body and health), debuts with a November/December issue and is a high-end luxury magazine targeting 100,000 select households with average net worth of $25 million.
With no shortage of luxury magazines in the marketplace, McMurry says it needed to make sure its reader base really represented the affluent, rather than the aspirational readers it says many of its luxury competitors cater to. The publisher began building its target audience by accumulating lists through a variety of different data sources around purchasing behavior that was indicative of affluence—such as real estate transactions or yacht and plane sales—and applied some real world thinking to that. "The definition of a yacht is any sea-going vessel that's 50-feet larger or longer," says Tom Garrett, vice president of client services. "But the person who has a 50-foot yacht and the person who has a 100-foot yacht are in two different economic spectrums." McMurry also gathered exclusive proprietary data investment from private wealth management institutions. The publisher ended up with a list of 300,000 names, which it pared down to get down to a target list of 100,000.
The 6 package will also feature an experiential component offering unique outings—including a trip to the Macallan Scotch distillery for $75,000 per person.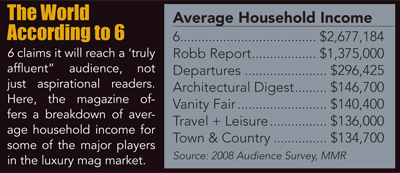 Meet the Author
---