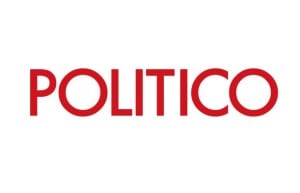 Carrie Budoff Brown, currently head of Politico's European newsroom, will succeed Susan Glasser as editor of Politico, the company announced today.
In a staff memo, Politico publisher and editor-in-chief John Harris said, "Carrie, a star reporter turned accomplished editor who bears much credit for the successful launch of Politico Europe over the last year, has a vision for the next chapter that Robert [Allbritton] and I found exhilarating."
Brown has worked at Politico since 2007. Harris noted that she was a key player in the publication's coverage of the 2008 presidential campaign. Brown then served as White House correspondent from 2009 to 2014, and was instrumental in launching Politico Europe in Brussels.
Glasser, a founding editor of Politico, will remain in place through the November presidential elections. She has been editor since 2014 and led the brand's expansion across the U.S. and into Europe.
"Excellence is the word we most associate with Susan, and her unyielding commitment to it mattered most in the realm of people. Recent years have seen an influx of talented reporters and editors to Politico — exceptionally creative journalists drawn to our vision of a publication dominating politics and policy, and the new expressions of that vision Susan and her team were creating," Harris said.
Glasser will move to Jerusalem with her husband, Peter Baker, who was recently named The New York Times Jerusalem bureau chief. There, she will assume the role of director of editorial innovation and chief foreign affairs columnist for Politico. This move has been expected since the end of 2015, Harris revealed.
The change in leadership comes in the wake of several high-profile departures. In October 2015, Politico Magazine editor Garrett Graff left the company.
In January of this year, then-CEO and editor Jim VandeHei revealed that he would leave the company after the November elections, but he ultimately left the position in April.
Also in January, chief political reporter and "Playbook" correspondent Mike Allen, chief operating officer Kim Kingsley, chief revenue officer Roy Schwartz, and EVP Danielle Jones announced their impending departures. Allen's last "Playbook" was published Sunday, but he will stay on through the elections. While Schwartz will also remain at Politico until November, Kingsley and Jones departed in April.
These departures are partially the result of Politico owner Robert Allbritton's clashes with VandeHei, Allen, and others concerning spending and expansion, according to The Washington Post and The Huffington Post.