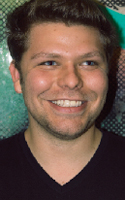 Art Director
This Land Press
Age: 24
Takeaway: Knight is responsible for art design and layout across all platforms and products, which includes a print magazine, tablet edition, online, books, and This Land Press merchandise.

The Columbia Journalism Review recently stated This Land Press (TLP), a multiplatform regional publisher for Oklahoma, is "perhaps the best for-profit local journalism startup in the country." Art director for TLP, Carlos Knight, agrees.
TLP is a full-service regional publication with an aggressive content strategy that utilizes print, online, app and social products. And Knight is largely responsible for designing and maintaining the look and feel. Whether it is the cover design, layout, or the iPad app's schema, Knight is credited for the regional publication's approach in bold design, "I believe if I wasn't part of it than it would have a different look and feel" Knight says.
TLP says it reaches an audience of about 200,000 readers each month, with a print circulation of 16,000 and digital products driving the remainder. Thislandpress.com offers a unique navigation experience, and as Knight likes to point out, there is a wealth of original content on the site. "We knew we could give the community all forms of media and put it in all forms," Knight says. TLP is following through not only offering community news and features, but also original television programming, podcasts, interactive tablet content and two soon-to-launch radio programs.
Knight's colleagues state his love for Tulsa is evident in his work, and he too says, "I wouldn't want to be anywhere else." Keeping that in mind, his commitment to the community he resides in is what inspires him to want to keep pushing the limits for TLP.
Looking ahead Knight indicates that TLP will continue to expand its brand by launching an online store with "everything from mugs and t-shirts to DVDs and posters," he says. TLP is also working on a series of anthology books that will highlight some of its most important stories that impacted the Tulsa community. Thus it seems Knight has a lot of work ahead of him and says, "We are becoming a media publication powerhouse and it's been fantastic to see it all come to life."