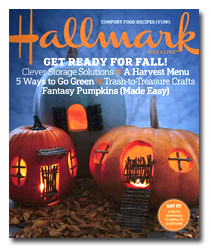 SEE ALSO: Recently Folded? Beware of Angry Subscribers
Hallmark Cards has shuttered its bimonthly Hallmark magazine. The February/March issue will be its last.
According to Hallmark president and CEO Donald J. Hall Jr., the decision to stop publishing the magazine was reached after a "comprehensive analysis" of the overall magazine industry.
"Despite favorable consumer acceptance of the publication, we cannot justify continued investment in the magazine at a time when we must focus our efforts and resources only on those projects that will lead to long-term profitable revenue growth for the company," he said.
The magazine's 28 employees have been laid off, the company said. In addition, 10 Kansas City, Missouri-based positions in the company's creative division will be eliminated.
Hallmark was launched in 2006 with a 400,000 rate base, which grew to 800,000 this year. Last year, Hallmark was one of the few magazines to grow its ad pages, increasing 11 percent in 2008, according to Publishers Information Bureau figures.