Car and Driver Turns to Facebook for Younger Audience Growth

A partnership with a car game app is designed to attract a younger reader base.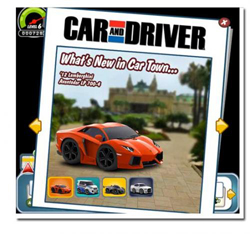 Car and Driver is executing a new partnership within the realm of Facebook gaming-the publisher will now work with Cie Games' Car Town social networking game app to help grow a younger audience for the magazine.
The Car Town game, which has over 5.8 million active monthly users on Facebook, gives users the ability to digitally take friends on a road trip or race them in a drag race. A Car Town gamer can also customize their own garage, personalize avatars and collect cars.
Now when new cars are released the announcements will be presented to gamers in the form of a Car and Driver magazine cover. According to a news release from Hearst, the covers will come "just as when the vehicles' real-world counterparts are reviewed by [Car and Driver] editors."
The integration of the game and magazine also includes a Car and Driver 10Best award, which will be given to players that create "outstanding virtual car and garage designs in Car Town. Monthly contest winners will have the opportunity to be featured in Car and Driver magazine, as well as on [Car and Driver's] website and social-media channels. In addition to featuring the Car and Driver 10Best winners, there will be Car Town news updates in the magazine which will highlight the latest features, hints and tips for the game," according to a news release.
The partnership begins this week and will run through 2012.
According to June 2011 Fas-Fax, total paid, verified and analyzed non-paid circulation for Car and Driver title fell around 1. 2 million with about 71,000 single copy sales.
Meet the Author
---