Capturing the Global Citizen

How Afar is reshaping the model of a multiplatform enthusiast publication.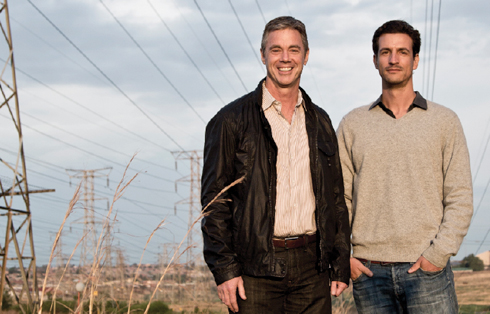 Today, a new publication might launch digitally, forgoing a print component. But just three years ago, when Afar, a media brand that caters to a special breed of experiential travelers who like to immerse themselves in a region's culture, it was the magazine format that founders Greg Sullivan and Joe Diaz used to pull their audience together.
According to Sullivan and Diaz, the print focus was not simply a stubborn adherence to traditional ways. Over the last three years Afar has added an expanded digital strategy, an experiential group travel model and a philanthropic organization to its platform—all of which, say the founders, have grown from the community that was initially formed around the magazine.
Nowadays, though, a small to mid-market enthusiast brand has a battle on many more fronts than it did just a few years ago. Among the traditional set, Afar is up against some deep pockets, with Condé Nast's Traveler, American Express' Travel & Leisure and Departures, and National Geographic Traveler. And online, new digital-only sites are popping up all the time—Sullivan counts upwards of 50 digital competitors—attempting to capture a slice of the pie that TripAdvisor, another competitor and current heavyweight in the user review and trip-planning market, has staked out.
Nevertheless, the brand has been growing. Afar Media has revenues in the $10 million range and is "very close" to being profitable, says Sullivan. The 7x magazine increased ad pages by 100 percent at the end of 2011, says the company, and its September/October issue that year jumped 334 percent in ad revenue versus the same issue the year prior. Ad pages are up 12 percent year-to-date through the July/August issue. Since its 2009 launch, the title has grown from a circulation of 50,000 to a current 175,000 and will jump to 200,000 with the January/February 2013 issue.
Afar is independently operated with Sullivan, Diaz and long-time business partner Ernie Garcia the primary investors [when the magazine first launched, it piggy-backed on established design and shelter enthusiast publication, Dwell, sharing its sales and production resources. Michela O'Connor Abrams, Dwell's president, was the chairman of Afar's board of advisors]. And Afar Media is launching a quarterly German edition in Germany, Austria and Switzerland this fall.
Hatched on the Road
The idea for Afar was hatched by Sullivan and Diaz after several trips abroad, culminating in one particular trip to India that solidified the concept of a title devoted to experiential travel. Not content with simply featuring great ideas for vacations, Afar's mission caters to a readership made up of affluent world travelers who take upwards of 20 trips each year.
"We call them 'global citizen travelers,'" says Diaz. "These are global citizens who are interested in what's going on in the world and believe that by connecting with others and immersing in their cultures they're able to get deeper and discover more about the place and themselves than any other way."
"We thought more and more people were looking for deeper travel experiences that were going to have an effect on them personally," adds Sullivan.
But in 2008, when a digital strategy was clearly a priority for legacy publishers, Sullivan and Diaz still believed a print launch was the better path to forming a community of like-minded travelers.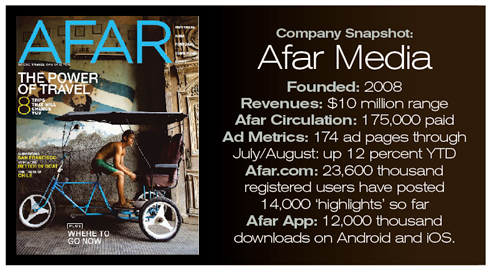 Print Has 'Soul'
"Even in 2008, all indications were digital was going to be where the growth was, but we still thought it was really important to start with a magazine," says Sullivan. "We thought digitally it would be hard to develop a soul right from the start. It tends to be more mass and generic. A magazine would help create what we were trying to say about the kind of travel that Afar is about. And we could say that so much better in the magazine format."
Nevertheless, a longer-term digital strategy was already being formulated. "We did that while always knowing that digital was really going to be the biggest part of the company," says Sullivan.
The community aspect of Afar's readership, and their uniquely high-frequency and experiential travel proclivities, has carried over to the brand's relaunched website and an app that were both rolled out in early 2012. Afar's digital strategy centers on user-generated content, a risky proposition from the start given that publishers take a leap of faith on their audience's ability to produce quality content.
But the contributions from readers have created a website and app that are as fun to look at as they are utilitarian. Both are fed by magazine content, but Sullivan says 90 percent of the available content is contributed by the community. Readers simply snap a photo with their smartphones, type up a description of the image and submit it. On the website, users register to gain access to curatorial features like the "Wanderlist" to create lists of places to go.
And when community members are already on a trip, having mobile access to other readers' experiences in that same region can be a big help.
"Afar.com and the Afar mobile app are tools, or guides, to help get beneath the surface of the places that you're going," explains Diaz.
Face-To-Face
In 2011, they launched Afar Experiences, a series of travel events designed for groups of 50 or so readers who sign up for an immersive itinerary in a pre-selected region. Cairo was the first trip, South Africa was the second in October this year, and Diaz and Sullivan are currently planning an Australian Afar Experience for 2013.
The brand also launched the Afar Foundation, a philanthropic affiliate of Afar Media, that's anchored by Learning Afar, which provides international travel scholarships to students who wouldn't otherwise be able to afford to travel.
Both groups bring Afar's travel sensibilities to life, say Diaz and Sullivan. "We are a value-driven company, so to speak, and that value comes through Learning Afar so strongly. It was important for us from the beginning to help create the idea of what we are. Our community thinks that travel is important. It's not just something they do on vacation. It makes them better people—and if you really believe that then you really have to do it. To us it would be hollow if we weren't doing something more."
Yet with a competitive set as broad and varied in the travel market, you might think running both a philanthropic affiliate and a niche experiential travel group may seem like luxuries an enthusiast publishing company can ill afford to pursue in today's media world. You'd be wrong.
"Make no mistake, Learning Afar is the philanthropic part of our brand and something that we believe in," says Diaz. "Afar Experiences is as well, but that is a business in and of itself."
A business to the tune of $400,000 to $600,000 in revenue per trip. Afar Experience travelers pay $4,000 per person on top of hotel, airfare and other excursion-related expenses and the trips are also heavily sponsored by regional airlines and tourism boards.
Longer term, Sullivan and Diaz say the bigger opportunities will continue to lie in  mobile. Currently, print dominates the revenue pie, followed by digital and then the Experiences trips, but mobile advertising, particularly with Afar's local perspective, is an opportunity the company will focus on going forward.
Meet the Author
---