Capital New York Implements Paywall

Pricing goes into effect in February 2014.
Capital New York, a city-centric news publication that targets city and state politics and the media industry at large, will implement a paywall next month for its three verticals—City Hall, Albany and Media—in February.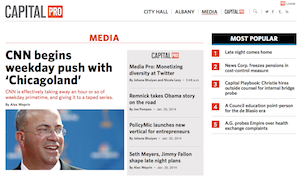 The news, which Adweek broke Monday, comes without much fanfare as the initial decision was announced last November alongside the unveiling of a plan to relaunch its Website in December 2013.
Capital New York is offering select organizations a discounted rate prior to the paywall going up. After going into effect, the price for five licenses will cost up to $5,990 annually.
Capital New York subscribers will gain access to dozens of stories and real-time daily alerts in addition to an exclusive morning newsletter, customizable breaking news items for mobile devices and what they call "the whiteboard" for alerts on proprietary in-depth news stories.
"The enticement is that people who subscribe know exactly what they're going to get," says Jim VandeHei, president and CEO, in a call. "When they roll out of bed they know they're going to have a newsletter ready, whiteboards throughout the day and stories that are smart."
Capital New York has yet to release a public announcement about the transition to a paid system, but VandeHei did say the move was modeled after parent company Politico.
"Everything we're doing at Capital is informed by success at Politico," VandeHei says. "Will [our audience] respond the same way Politico readers did? We think so."
Washington D.C.-based Politico acquired Capital New York in September 2013 with grand plans for a Website redesign, premium-priced content verticals and even an 8,000-circulation magazine for readers in New York City and Albany, NY launching on Jan. 27.
Capital New York has been able to grow traffic since its acquisition, now reaching over 650,000 readers and 1.3 million page views per month. VandeHei anticipates growing the audience base thanks to the lure and quality of published content that resonates outside the micro-verticals available on the free part of the Website.
The long-term goal is to achieve a 50-50 distribution in revenue breakdown between advertising and subscriptions. Politico currently receives 70 percent of its revenue from advertisers and only 30 percent from subscribers. VandeHei is optimistic that Capital New York can reach that 50-50 target.
"You're not going to pay $7,500 for casual news," says VandeHei. "We're providing actionable news that's important and useful and our audience knows that."
 
Meet the Author
---