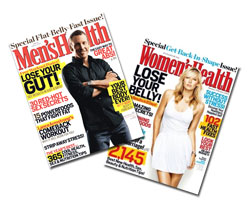 Rodale, Time Inc., Reader's Digest and Hachette were among the
publishing companies that had titles appear on Capell's Circulation
Report's 26th annual "Best Performers in Circulation" list for 2008.
The top performer is Rodale's Men's Health, which has made the top 10
list for the 12th time and sixth consecutive year—it sold almost
all of its subscriptions at full price and delivered huge bonus circ
over rate base for its advertisers, according to CCR.
Women's Health—another Rodale title—finished second with newsstand
sales up 12 percent, ad pages up 13 percent and total circulation up 45
percent in the last year. The Economist and People came in third and
fourth, respectively. This is the 11th time the Economist has
appeared on the list, while it is People's 10th appearance.
Mansueto Ventures' Fast Company was fifth, with a 24 percent
increase in newsstand sales and ad pages in the last year.
New to the top ten (no. 6) is Every Day with Rachael Ray. The
Reader's Digest title saw a 46 percent growth in subs last year and a
34 percent increase in total paid circ.
Hearst's House Beautiful saw a 9 percent gain in newsstand sales and seven-point gain in
sales efficiency in the last year. Named as one of the best
audit performers of the last decade, the Atlantic finished at number 8. The title increased its rate base to 450,000 this month.
Time's Real Simple and Hachette's Elle rounded out the top 10. Real Simple saw its newsstand sales rise by 5 percent
last year and increased its rate base to 1.95 million, while Elle had its six consecutive years of ad page growth to over 2,600 pages in
2008. Titles that just missed the top 10, but were listed as
"honorable mentions," included All You, Best Life, Cosmopolitan, Figure
and Popstar!
Interestingly, out of the top 10 performers, five currently
have a cover price of $4.99 or higher, and all but four have made cover
price adjustments in the past three years, according to the Audit Bureau of Circulations. Five of
those titles—the Economist. Elle, House Beautiful, Men's Health and
People—increased their cover prices, while the Atlantic reduced its
cover price.
To determine the top 10, CCR reviewed all circulation statistics
published in 2008 for all ABC audited consumer magazines. Last year's
data was then compared to 2006 and 2007 to determine which titles
showed the greatest improvement.