Canon Buys Four RBI Magazine Brands

Deal includes EDN, Design News, Test & Measurement World and Packaging Digest.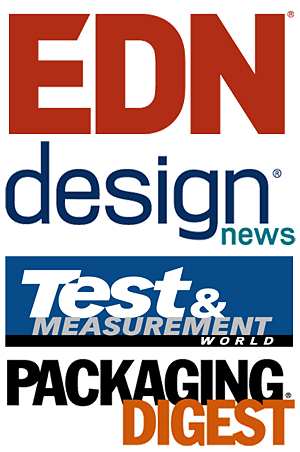 Reed Business Information has sold off another group of magazines. Los Angeles-based Canon Communications is expected today to announce that it has acquired the global assets of RBI's Electronic Design News (EDN), Design News, Test & Measurement World and Packaging Digest. Financial terms of the deal were not disclosed.
"Canon's trade show business has covered a broader range of advanced manufacturing than our publishing division has," Charlie McCurdy, Canon's chairman and CEO, told FOLIO:. McCurdy also serves as chairman and CEO of Apprise Media, which acquired Canon in 2005 for $200 million.
"The addition of these brands gives Canon's publishing division as much range of industry coverage as it has in trade shows," he said. "It was a very attractive opportunity."
Canon, known largely as a medical/pharmaceutical industry magazine publisher, also produces a large stable of events including several that serve the same advanced design engineering sector as do the titles associated with this deal. Canon said it will integrate the three electronics titles with its medical device brands and align Packaging Digest with its Pharmaceutical and Medical Packaging News brand.
Ron Wall, executive vice president of Canon's publishing division, told FOLIO: that all four titles will continue in print (as well as digital) and that no changes will be made to their frequencies or circulations. In the U.S., EDN publishes 24 times per year and carries a 113,000 circulation. Design News and Packaging Digest both publish monthly and carry circulations of 145,000 and 80,000, respectively. Test & Measurement World publishes 11 times annually with a 60,000 circ.
The U.S.-based component of the deal is expected to close "soon," McCurdy said, while the component that encompasses the global assets should close a few weeks later.
McCurdy said there will be minimal changes to the magazines' "market-facing staffs," although some back end staffs will be integrated with Canon's existing operation.  
When contacted Friday, an RBI spokesperson declined to comment.
This marks the second divestiture RBI has pulled off since announcing in July that it put the majority of its U.S.-based trade magazines back on the block. In December, it sold Broadcasting & Cable, Multichannel News and This Week in Consumer Electronics (TWICE) to Wicks Group-owned NewBay Media. Last month, RBI ceased publication of Video Business, Manufacturing Business Technology and Industrial Distribution, as well as their associated Web sites.
Media investment bankers The Jordan, Edmiston Group represented RBI in its deal with Canon.
Meet the Author
---