Can a Style-Infusion Save WSJ's Magazine?

March issue ad pages slip; 'style-oriented' editorial shift for title.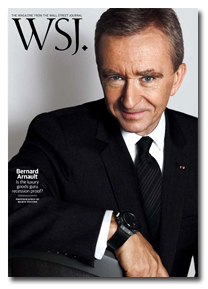 This week, WWD online reported that the Wall Street Journal's glossy "WSJ." saw its number of ad pages slip to 27 (out of 92 total pages) for its national March issue.
This fashion-themed issue, featuring an interview with LVMH Moët Hennessy Louis Vuitton chief Bernard Arnault, dropped almost 50 percent compared to September's premiere, which had 51 ad pages (out of 104 total).
Until now, "WSJ." has made a conscious effort to stay away from fashion in favor of news, lifestyle and glossy photography.
Now, the magazine has decided to move in the direction of a more "style-oriented" product, according to editor Tina Gaudoin.
Of course, titles getting hit hard on the ad sales front is almost a given in the current climate. But does this warrant the "WSJ." to morph into yet another of the failing fashion/style glossies that can't get advertisers because of less spending in the luxury market?
There's proof is in the numbers. Fashion, home décor and accessories have continued to slide, with the Publishers Information Bureau reporting apparel and accessories down 8.2 percent in ad pages, and retail down 7.1 percent in 2008 compared to 2007.
As the March issue's cover line asks—"Is the luxury goods guru recession proof?"—WSJ may soon have to ask itself the same thing.
Meet the Author
---