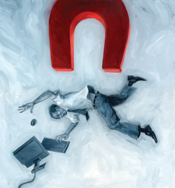 As Director of Business Technology at Time Inc., Raanan Bar-Cohen oversaw the development of Time Magazine's complete full-text archive, going back to 1923. In 2006, Bar-Cohen left Time Inc. for Dow Jones Online. However, by July 2007, Bar-Cohen left Dow Jones to join online start-up and blog network Automattic as "media engineer," working on media services and partnerships.
That's something playing out over and over among magazine publishers—digital talent leaving top positions for online startups. Award-winning PC World editor Harry McCracken jumped ship in 2008 to start his own company, Technologizer. More recently, Jonah Bloom left Advertising Age (one of the highest profile editorial gigs in b-to-b) in December to be CEO and editor-in-chief of b-to-b blog network Breaking Media.
And attracting talent with a strictly digital background can be even harder. "Publishers can do it, but some are not set up to attract the kind of talent that is required to truly unleash their digital business," says Bar-Cohen.
There are specific challenges that only some traditional publishers have tackled according to Bar-Cohen:
Openness matters. "I don't see many traditional publishers taking advantage of their in-house digital talent to reach potential hires," says Bar-Cohen. "Engineers especially want to work with other top engineers."
Companies should encourage their engineers, designers and digital executives to blog, speak at events and generally reach out and participate with various development communities, especially open source ones, such as WordPress. "It's a great way for traditional companies to connect with top talent, and ultimately is a benefit when they are trying to attract the good ones," says Bar-Cohen.
Deploy, deploy, deploy. Momentum matters, and the current product launch cycles at many traditional companies is measured in six-month increments—which is too slow. Better to skip the "total redesign" and focus on small improvements that take days or weeks, and which build momentum, are easier to measure, and, just as importantly, allow for feedback and course correction.
"Today's sites should be alive and organic, and constantly evolving," says Bar-Cohen "That's also easier for your users and visitors, who don't have to try and absorb a massive redesign, but rather see new features and improvements popping up each week. This kind of environment is ideally suited for the top digital talent that is very data-driven and wants to innovate."
Common Frustrations:
Lack of Development Resources, Slow Pace The lack of resources on the development side and the relatively slow pace of launches are the two largest frustrations for most digital staffers working within a traditional magazine publisher.
"If you look at the ratio of product people to developers, it seems to be fairly out of balance," says Bar-Cohen. "When I talk to executives, they are frustrated that a big chunk of their developers are working on maintaining legacy systems, often content management systems, that require the majority of the developer's time just to maintain and keep running. This leaves very little time for new work and innovation. They are questioning if running these proprietary CMS platforms is truly a core competency that they should have in-house, or if they would be better off focusing on innovating on top of an open source platform."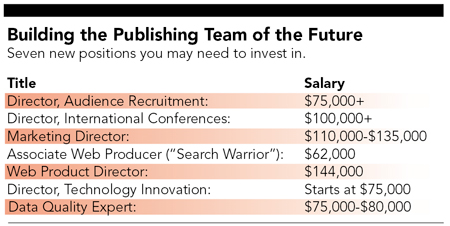 Recruiting as a Publisher
EE Times Group CEO Paul Miller thinks that on the whole, traditional publishers can't compete with digital startups for digital talent. "However, what we have found at EE Times Group is that an exciting strategy, a technology challenge (such as rebuilding an entire market-leading Web site) and a culture that values technology, analytics and development as highly as sales, content creation and marketing, can attract and retain great talent," he adds.
EE Times Group hired more than a dozen Web developers in San Francisco between 2009 and 2010 and has invested in digital media technology and development resources. "This includes our CIO, Brent Pearson, who joined last spring to spearhead our Web reinvisioning initiative," says Miller. "Brent was tasked with creating a technology road map for our media business represented by the EE."
Talent sources include the agency world, professional networks and, significantly, word of mouth, according to Miller. "So far, so good," he adds. "We have found that the digital talent needs to be valued as contributors to the strategic development of the business and not just people at the end of the line asked to build what they're told. A strong CIO/leader is also key as digital talent can move in packs."
Digital Salaries Back to Earth? 
One bright spot for publishers may be digital salaries. Three years ago, online editors often commanded higher salaries than their peers in print, sometimes 40 percent to 50 percent more. In 2007, Hanley Wood budgeted $2 million for raises and new digital hires and found even that wasn't enough.
Today, however, salaries for digital talent have stabilized as legacy employees broaden their digital skillset and the job market shrinks. According to the 2009 Annual Survey of Journalism and Mass Communications Graduates conducted by the University of Georgia's James M. Cox Jr. Center—which primarily looks at graduates who have gone on to editorial jobs—online media paid higher salaries than any other media, at an average starting salary of $33,000, up from $31,000 in 2007. However, for the first time in three years, recent graduates said that not only had the number of digital jobs declined but that the number of digital duties at broader media organizations had declined as well. "Salaries for digital are about the same, maybe still a little higher," says Miller.
Specialized information providers, which include research and b-to-b publishing, paid the second highest starting salaries at $30,000—however, that's down from an average starting salary of $31,000 in 2007. Consumer magazine publishing pays less than b-to-b and even newspapers to start, with an average starting salary of $24,000, which is down significantly from a starting salary of $28,000 in 2007.
SIDEBAR:
Five Things Your Digital Staff Is Dying To Tell You
Digital media may have grown from basically zero to 8 to 15 percent of total revenue for most magazine publishers in recent years but the gulf between online staffers and traditional employees (particularly the executive level) remains large.
Below are five verbatims from a mix of e-media strategists, developers, project managers and digital marketers on what they would love for the rest of their colleagues to realize.
1) "Instead of designing a site around editorial or spending days fretting over what color to make a link, actually think about a business model. Too many times we are tasked with a huge design and programming effort only to have someone say, 'Oh, we'll just sell ads on it.' And then they don't. There's money to be made online, but you actually need a product to sell."
2) "All the higher-ups are publishing people. You need C-level people who understand the technology and what it takes to market a successful Web business. When they do hire someone with a digital background, it's almost never someone with any practical development or business experience. They prefer the types that like to sit around all day with overpriced agencies fantasizing about 'user experience.'"
3) "Trust our advice, we're always happy to explain if you're willing to learn. Publishing people say they want to understand digital, but in practice they are stuck in their old ways, and keep going back to what they know."
4) "Don't launch a Web product without a serious marketing plan to drive traffic. And no, a few e-mails to our existing customer base and two Google ads don't cut it."
5) "I'm not in IT. I'm not here to fix your printer."