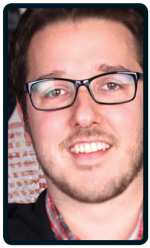 Strang launched a magazine for the Christian market in 2000 while still in college, and today oversees a booming multi-media business. 
In an era where printed publications are struggling for revenue, Cameron Strang's Relevant Magazine is boasting record sales for the last eight issues and online revenue is up 47 percent—a testament to the young publisher's strategy.
"We were a digital publication first, digital has always been in our DNA," Strang says. "So the transition the industry is in right now, the question of, 'What do we do with digital?' we've never battled with that because to us, both were a priority."
At 22-years-old Strang wrote an 84-page business plan that would become Relevant—in college he saw a hole in the Christian products market. While exploring his faith, he realized his vision for a young religious outlet.
Relevant Media Group started as a Web design company in 2000 to assist marketers in reaching the 18-30 age bracket of Christian followers. A year later the group started publishing books; in 2002 relevantmagazine.com was born as a daily Christian news site.
"By the end of 2002 we had 100,000 unique visitors a month coming to the Web site so we knew there was a market there—we actually used it to then launch the print mag," Strang says. "We offered a $10 charter subscription so in March 2003 we were able to launch the print magazine with 5,000 subscribers."
This "crawl, walk, run" approach has always been the brand's strategy. "Even today we still do marketing consultation and things on the side which diversifies our revenue streams," Strang says.
Relevant is launching a new magazine (with 150,000-circ) called Reject Apathy. The group will also focus on introducing more multimedia content and tablet products around its growing market. 
"We wanted all the big boys to make all those expensive mistakes and we can learn from their successes and failures and come in on the second wave with ours," Strang says.
VITAL STATS: Print to online advertising revenue ratio for Relevant is 74/26. Print advertising revenue has increased 40 percent in the last 18 percent months. Relevant podcasts have a weekly download of 70,000. The first magazine launch garnered $50,000. It grew by 73 percent online last year.  2012 will have the first Relevant event.