Cam Bishop Acquires Ascend Custom and Event Group

Ex-CEO buys rights to Ascend Media name.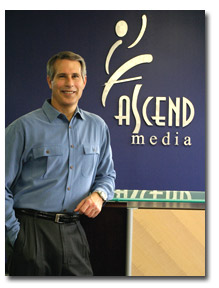 Ascend Media founder and former CEO Cameron Bishop, in partnership with investment fund TGP Capital Partners LLC, has acquired the Event and Custom Media Division of Ascend Media.
The Kansas-based publisher is now shopping just one more group: the Ascend Institute for Medical Education. Last month, Ascend sold its Allied Healthcare division to Anthem Media Group and sold its Practice Developers group shortly before that.
The Event and Custom Media division will retain the Ascend Media name and will continue to operate out of the Overland Park, Kansas offices. When contacted by FOLIO:, Ascend Media CEO Vicki Masseria said there is no conflict between the brands and AIME will continue to be shopped with the Ascend name.
While he wouldn't reveal the transaction price, Bishop [pictured] said the Event and Custom Media group generates revenue in the "mid-teen" millions. "This was the original founding acquisition we made when we started Ascend," he added.
Bishop will serve as CEO of the new Ascend while Barbara Kay, president of the Event and Custom Media group, has been promoted to company president. The new Ascend will have approximately 60 employees.
On the event side, the company generates show dailies for trade associations and publishing customers, hosts medical and healthcare events, runs a database business of customer and exhibitor lists and publishes directories, exhibit guides and show guides and floor maps.
On the custom side, the company does work for trade associations such as The American Heart Association and the American Sport Fishing Association, as well as specific clients such as McDonalds and Ace hardware. Bishop says the company projects more than 400 custom projects a year.
"We see a tremendous opportunity in custom publishing," Bishop added. "We have graphic design teams for print and electronic and a huge content team and sales team. We want to build custom out from much of business it does now, which is event-centric."
Berkery Noyes brokered the deal.
In February 2008, Ascend sold its Princeton, NJ-based Ascend Health division to Intellisphere and in fall 2007 sold its 17-title professional service division. The company shut down three titles (Physicians Money Digest, Family Practice Recertification and Internal Medicine World Report, divested its four-title dental group and sold Expo magazine to Red 7 Media, FOLIO:'s parent company.
Ascend was originally founded in 2002, backed by CCMP and Veronis Suhler Stevenson. The company grew quickly but many observers blamed the $130 million acquisition of Medical World in 2004 (which turned Ascend into a $150 million company) for making the company too big too quickly. In late 2007, Masseria (formerly CEO of CMP Medica) took over as CEO, tasked with selling off the company and recouping some of the investment.
Meet the Author
---