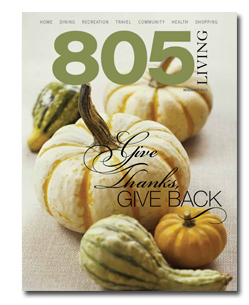 3Digit Media is increasing the circulation of 805 Living, a regional title serving California's central coast, by 20 percent to 30,000 copies. The change will be effective with the January/February 2011 issue.
According to CEO and publisher Carla Blanco, market demand was the driving force behind the circulation spike. "We have a 100 percent pickup rate on the newsstand and deliver all our magazines each month," she says. "Santa Barbara [California] is a market where there is growth potential so it makes sense to distribute more copies than we currently deliver into that portion of the '805' area."
Even with the circ bump, 805 Living—which publishes 10 times annually—will be maintaining its 2010 ad rates in order "to offer more value to advertisers," Blanco says.
In terms of revenue, Blanco says 805 Living has seen "a very, very slight increase" so far this year over last year, with some stabilization happening during the fourth quarter. "We are cautiously optimistic and have lots of great things in store for 2011," she says, including "805 Golf," a special advertising section in the magazine's June "Guys Issue."