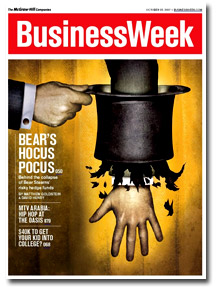 BusinessWeek is combining its print and digital staff to create a single editorial operation. The move is designed to better integrate its print and Web products, the company said. As part of the reorganization, as many as a dozen business and editorial staff members will be laid off.
In an internal memo distributed to the staff on Wednesday, BusinessWeek editor Stephen Adler appointed eight "chief" editors to oversee coverage areas for both print and online and a pair of managing editors—on print, one online—to "preserve the highest possible quality as we produce each product."
"Unfortunately, in connection with the reorganization, a small number of our editorial colleagues will be leaving BusinessWeek," Adler wrote. "It's exceedingly difficult to part with valued co-workers, and decisions to eliminate positions aren't made lightly."
Oddly, the reorganization comes at an otherwise fruitful time for BusinessWeek. According to Adler, magazine readership is up three percent; newsstand sales are up 25 percent "while most of our competitors were down or flat"; and BusinessWeek.com set a record with 64.7 million page views in November.
The magazine also recently completed a successful redesign.