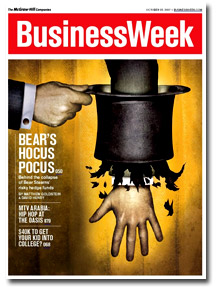 On the heels of Fast Company's launch of a social network, BusinessWeek.com has partnered with professional networking site LinkedIn in an effort to expand its own.
On BusinessWeek.com, users will be able to view their LinkedIn contacts at companies featured in articles via LinkedIn's Company Insider feature, which launched March 10. According to BusinessWeek, this is the first of several LinkedIn applications to be integrated into the site.
On LinkedIn.com, users will be able to view company profiles, a feature that launched last week, with industry statistics and company data provided, now, by BusinessWeek.com, along with Standard & Poor's Capital IQ division and LinkedIn.
According to BusinessWeek senior vice president Roger Neal, BusinessWeek.com averages 8 million unique visitors.
Last month, BusinessWeek competitor Fast Company announced the launch of a social networking platform it said was the first to blend journalism with online community. The magazine's revamped site allows users to contribute content in the form of member blogs, answers to daily questions from editors and participation in online discussions. Each member has a profile containing his or her generated content, which can be sent to other Web sites through an RSS feed.