BusinessWeek Named ASBPE Web Site of the Year

Meister Media's Today's Garden Center received top Multi-Platform award.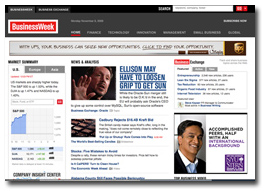 The American Society of Business Publication Editors (ASBPE) announced BusinessWeek winner of its Web Site of the Year at the Digital Azbee Awards Friday.
One judge said BusinessWeek's site had a strong, clean interface with consistent page elements
that led to positive user experience, according to a release. The other three finalists—IDG's CIO and InfoWorld, and TechRepublic—earned honorable mentions during the award luncheon at the San Francisco Hyatt.
The top Multi-Platform award went to Meister Media Worldwide's Today's Garden Center. The site's branding, said one judge, was consistent in both print and online and that the content was complementary to each platform. The judge also said the online content is interesting and easily navigable. Honorable mentions for the Multi-Platform award went to finalists Greenhouse Grower and Realtor.
The Digital Azbees total 28 categories, with the 15 new digital categories added this year, including best podcast, slide show, video and blog. All category winners and finalists can be found at asbpe.org.
Meet the Author
---