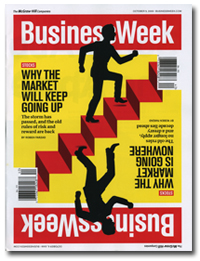 As the sale of BusinessWeek draws nearer and its integration into Bloomberg begins, the company Wednesday kicked off a round of layoffs that could result in as many as a third of the magazine's staffers losing their jobs. The layoffs, which are expected to finish before the end of the week, could also include some "important" online-side employees, a source familiar with situation told FOLIO:.
Those cuts would not include BusinessWeek executive editor and BusinessWeek.com editor John Byrne, who is said to be remaining with the magazine, despite plans to relocate to San Francisco, the source said.
The Wall Street Journal Wednesday reported that about 25 percent of the magazine's staff, or about 100 people, would lose their jobs as a result of the layoffs.
Another source told FOLIO: a number of longtime BusinessWeek staffers are expected to volunteer to take severance packages and not accept any offers for continued employment under Bloomberg. Several current BusinessWeek staffers, including John Byrne, have already accepted positions under Bloomberg. They are: publisher Jessica Sibley, marketing head Carl Fischer, finance vice president Tania Secor, executive editor Ellen Pollock and managing editor Ciro Scotti.
UPDATE: According to his Twitter feed, BusinessWeek media columnist Jon Fine is among those who weren't offered new positions.
Bloomberg on Tuesday tapped Time magazine deputy managing editor Josh Tyrangiel as editor-in-chief of BusinessWeek, replacing Stephen Adler, who said in October that he'd step down later this year. At Time, Tyrangiel also served as managing editor of Time.com.