BusinessWeek Hosts Four-Hour Dinner for 10 Web Readers

Lavish meal hosted by editor John Byrne.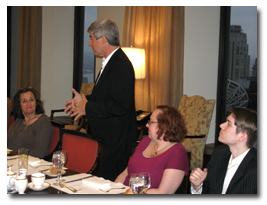 Last night, on the 50th floor of the McGraw-Hill Building in New York, BusinessWeek.com's editor (and tweeter-in-chief) John Byrne hosted a dinner for a small group of 10 readers who "made significant contributions to its Web site last year."
"This is our first ever but it won't be our last," Byrne said, via Twitter of course. "It was a terrific group of smart, engaged readers who had lots of good advice."
He added: "Great meal, too, with chocolate mousse cake & apple tart with vanilla ice cream to finish it off."
This type of "reader engagement" may be new to BusinessWeek, but is nothing new to magazines. Jane magazine used to host regular pizza parties for readers in its Manhattan offices. (They invited me to one once; I declined, figuring I'd have time to attend one eventually. Oops.)
And "meet-ups," of course, are common for technology sites like TechCrunch and the D.I.Y. nerds who read Make. But I was slightly surprised to hear about BusinessWeek's soiree. Who knew magazines did this sort of thing anymore? I thought curated dinners would've surely been cut from publishers' 2009 budgets long ago.
Nice to see.
Meet the Author
---