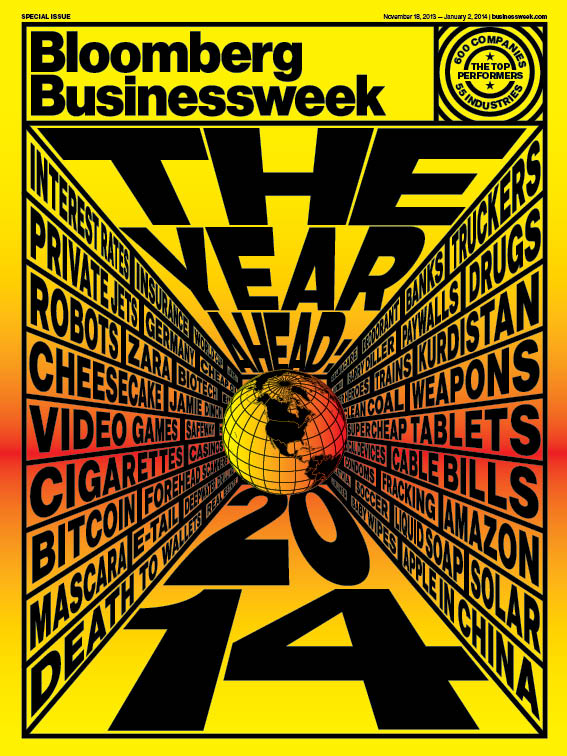 Bloomberg Businessweek is set to drop its biggest issue since 1999 on newsstands next week. The magazine's latest issue, hitting newsstands Nov. 18, will have 212 total pages, 111 pages of which feature ads.
The issue is part of parent company Bloomberg's "The Year Ahead" global media franchise, which includes an interactive digital leaderboard, new content for the magazine, Web and Bloomberg TV, as well as an international conference of CEOs in Chicago hosted in conjunction with Mayor Rahm Emanuel.
"This from the start was a multimedia franchise anchored in Bloomberg Businessweek," says the magazine's publisher Hugh Wiley. "Businessweek has always been about preparing the reader for the week ahead, so taking an issue that looks at the year ahead in an industry format was very much on brand for us."
The issue, scheduled for an extended run of seven weeks, is targeted at CEOs and provides reference guides for the annual planning season with various sections dissecting and foreshadowing popular trends and topics including finance, energy, technology, retail, health care, transportation and defense.
"This is a franchise that covers 600 companies in 55 industries, which really encapsulates the worldwide economy," says Wiley. "You can talk about the issue from the vantage point of industry verticals [and] across industry themes."
It is that wide cross-section of content that helped boost ad sales for the issue, as well. Wiley notes that Businessweek "gave a lot of our advertisers the ability to come in and own different segments of the issue," developing sponsorship packages around print, digital, mobile, TV and events.
"Forty-five percent of the advertisers are new to the magazine, which shows the power of a new franchise," contends Wiley. "Many of those advertisers have bought schedules in addition to the issue itself, so they're not one-off buys."
Businessweek plans to publish the perfect bound special edition on a yearly basis moving forward.
"This will be an annual franchise which we plan to build on," says Wiley. "It is here to stay."