BusinessWeek Goes on the Block

After months of speculation, McGraw-Hill confirms it's exploring a sale.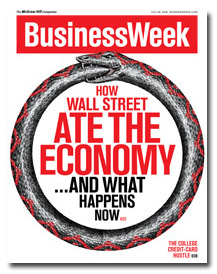 Following months of speculation, BusinessWeek publisher McGraw-Hill is seeking a buyer for the ailing business magazine.
The New York City-based publisher hired investment bankers Evercore Partners to explore a sale of BusinessWeek, according to a Bloomberg report that cited an unidentified source. When contacted by FOLIO:, a McGraw-Hill spokesperson declined to comment on the report.
UPDATE: In a statement Monday afternoon, McGraw-Hill said it is "exploring strategic options" for BusinessWeek.
The magazine saw ad pages plunge 34.3 percent during the second quarter, according to PIB figures. Estimated revenue declined 30.1 percent to $43.8 million.
Through the first six months, ad pages were down 36.8 percent and revenue was down 33.4 percent to $77.8 million.
"I think it will be hard to sell BusinessWeek for a reasonable valuation because it lost so much money last year," DeSilva & Phillips managing partner Reed Phillips told FOLIO:.  "However, it is a great brand with a first-rate reputation and someone might have a plan for how to publish it in this new economic environment."
In April, McGraw-Hill reported a first quarter operating profit of $103.7 million—a 22.1 percent decline from the same period last year. Meanwhile, the company's media division saw profits plunge 76.4 percent to $2.8 million. During its earnings call, chairman, president and CEO Harold McGraw III attributed the division's losses to a continued decline in advertising, strength of global energy markets and deferrals at J.D. Power and Associates ($4.7 million in revenue and $2.3 million in operating profit).
At the time, a spokesperson "declined to comment on market rumors" when asked by FOLIO: if McGraw-Hill would consider putting BusinessWeek on the block.
McGraw-Hill is expected to release its second quarter earnings report on July 28.
Meet the Author
---