It's an occasion that comes around once every four years—the Democratic and Republican National Conventions. Not only is it a race for the presidency, but a business opportunity for publishers looking to get their brand in front of the conventions' combined 12,000 delegates and 85,000 total visitors from all 50 states, the District of Columbia and five territories.
Here, FOLIO: checks in with two news groups—Bloomberg LP and POLITICO—to see how each has developed daily publications for the respective conventions, how these unique special interest publications sell advertising and the return on investment for the brands not only before the polls, but for the next four years.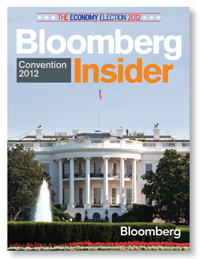 Bloomberg Insider
Adding Politics to Business
There are about 26 million monthly visits to Bloomberg news sites, and 7.6 million government contracts have been tracked through Bloomberg Government, the company's two-year-old subscription-based news and information site. For the first time, Bloomberg will produce daily publications for the Democratic and Republican National Conventions, called Bloomberg Insider.
"In terms of the specifics of this edition, we started talking about this in the spring," says Norm Pearlstine, chief content officer for Bloomberg LP and chairman of Bloomberg Businessweek. "I began by doing a few things—relying on colleagues at Bloomberg Businessweek who have contacts with printers and know about buying paper. We started to try and figure out what kinds of things we could produce that might be different and interesting compared to what everyone else has done."
Determining Logistics
Bloomberg is making a more concentrated effort to increase its coverage of the intersection of governmental relations, politics and business. But producing a show daily is not the same as a traditional special issue.
"Through the spring we were questioning things like what kind of deadline do you need to try and do a daily magazine? Does it matter if you can't get the late night speeches into something?" says Pearlstine. "We had to learn a lot of things that other people who have done these things in the past have done, (like) how you distribute at conventions."
In addition to planning how the editorial content would be produced and distributed, Bloomberg also looked to advertising partners looking to capture some of these key demographics for support.
"We tell them that we're doing a few things," says Pearlstine. "We're printing 15,000 copies for each issue and 10,000 of those will be distributed by the convention and will be in kiosks. We'll distribute 5,000 copies in the Washington area."
In addition to distribution at the convention, Bloomberg will have a PDF version on Bloomberg.com and BusinessWeek.com, and it will be available to the subscribers of Bloomberg Government, and the Bloomberg Terminal, which has over 300,000 subscribers.
More Than Just Dailies
"Bloomberg will be highly visible at each convention," says Pearlstine. "We're going to have event space at both conventions where we'll be doing panel discussions, explaining Bloomberg Government, social events and viewings of the proceedings. Advertisers in Bloomberg Insider will have access to events and that space."
Bloomberg has hired a special ad sales consultant to rep the dailies, and the Tampa Bay and Charlotte Business Journals will be contributing editorial content and selling advertising locally as well.
"With a few weeks left in our ad sales process, and with limited inventory available, we are pleased by the response from advertisers," a spokesperson for Bloomberg LP says.
Bloomberg considers an important part of the Bloomberg Insider's ROI to be raising awareness about its other products, which is why the edition will be peppered with house-ads in addition to paid. Alerting people to Bloomberg's growing coverage of politics, and not just financial news, has been a broad effort of the company—it hopes the Insider will help to raise that awareness.
"We're excited about the ability to sell advertising and get recognition for it, but the real ROI for us is (awareness). In the last two years we've gone from about 150 editorial employees in Washington to 1,600 to 1,800 total employees in Washington," says Pearlstine. "We very much wanted to make sure that the audience that attends conventions, like members of Congress, members of the administration, lobbyists, lawyers, publicists and political leaders, understand the extraordinary expansion of Bloomberg's presence in Washington, and our commitment to the coverage of politics, government and the interaction with business."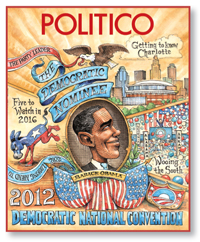 POLITICO
Leveraging the Election for Audience Growth
POLITICO distributes over 33,700 copies of its printed publication each day Congress is in session to all members of the U.S. Senate, the U.S. House of Representatives and all their Congressional staff, the White House, executive branch, Cabinet departments, federal agencies, the Supreme Court, lobbyists, special interest groups and others. To further reach its core audiences, POLITICO is embedding itself deeper into the race for political coverage by producing a convention daily.
"From a print perspective, we're a trade publication for Capitol Hill, the White House, administration and K-Street," says Roy Schwartz, chief revenue officer for POLITICO. "Every four years for the conventions that entire group of people goes to whichever city, or in some cases both cities, that the RNC and DNC are aligned."
POLITICO will do six days in print for each city—August 26-31 in Tampa (RNC) and September 2-7 in Charlotte (DNC). Over 30,000 copies will be printed each day, and the brand has established a partnership with major local newspapers in the area to assist with distribution. POLITICO has produced this type of daily since its 2007 launch as a free online-only source accompanied by a print newspaper that was originally only available in Washington, D.C.
A Year-Long Lead Time
"We start planning for this about a year ahead of time," says Schwartz. "We'll start reaching out (to the local newspapers) on both the editorial and business sides, to make sure it works for each team. We'll start to come to an agreement on what it will look like, and what the business arrangement will be—Tampa was done at about the end of last year and Charlotte a few months after that."
The publication is available three days before people arrive in convention cities, and the three days through their stay. There will also be copies of POLITICO and its special 76-page, ad-supported convention guides in area airports.
"The advertiser's primary targets are influencers on Capitol Hill, in the administration or those in Mitt Romney's camp," says Schwartz. "We go out to the same organizations that we work with here—we have over 500 organizations that buy advertising every year either online or in print, usually both. We contact them all to understand what their plans for the conventions are."
Local Distribution Ties
One of the advantages of working with the local publications is "they already have the best distribution," says Schwartz. "They already know and work with all of the hotels so you can get your product in front of all of the people when the first walk out the door. We have more copies, more days and better distribution—that's our differentiator for our clients."
Before the nominating event, POLITICO is raising awareness about its convention dailies by running print advertisements that alert people where they can get copies in both Tampa and Charlotte. In terms of ROI, POLITICO is hoping this will increase the number of individuals reading online since its printed edition is distributed for free in select locations in D.C. and New York, and costs $200 for a yearly subscription.
"The trade pubs in D.C. have been doing this for years," says Schwartz. "It's not something that's new, but we're new to it because we've only been around for five years and this is our second convention. We hope people see our coverage during the convention, which can continue to grow our traffic, which we saw last time, and we're able to retain them post election. Once you capture them during the election, you usually retain a great number post-election as well. Since we're a free print, we're not looking to gain subscribers but we're always looking to gain readers. We've gone through a great deal of effort to make sure we've got the best distribution, the largest number of print publications, the most days, the partnering and the best coverage."