Business Leader Media Buys South Florida CEO

North Carolina publisher to relaunch, rename magazine.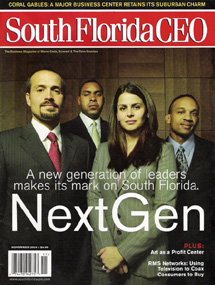 Nearly a month after South Florida CEO magazine folded due
to financial troubles, Business Leader Media has purchased the ailing magazine,
and will rename it South Florida Business Leader.
Terms of the deal were not disclosed.
With a circulation of 35,000, South Florida CEO had been
losing ad dollars for several months, and its owners "weren't doing as
intensive a marketing job as they might have," a media observer told
Florida's Sun-Sentinel newspaper. Founded in 1998, the monthly Miami-based
business magazine was purchased in 2004 by the CEO Publishing Group, a private
equity partnership in association with Latin American Communications Partners.
North Carolina-based Business Leader Media publishes a
number of national regional business titles including its flagship Business
Leader magazine. South Florida CEO had a circulation of about 35,000.
It isn't clear when South Florida CEO would relaunch as
South Florida Business Leader. Business Leader Media executives could not
be immediately reached for comment.
Meet the Author
---