Business Insider Expands Its Research Subscription Service

Adds social media market analysis to existing mobile coverage.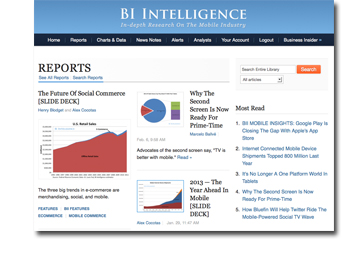 Business Insider is expanding its data subscription service, Business Insider Intelligence, to include research and analysis on the social media market. Up to  now, the service only focused on the mobile space.
Paid access to research has become a major focus for BI. The service doubled the number of paid subs, which go for $299 each, between the third and fourth quarters last year and is just about to pass 2,000 subscribers.
Launched at the beginning of 2012, the research service leverages a small but potentially lucrative slice of the BI audience—site visitors who dug into the occasional data-centric post.
The site may be known for its rapid, provocatively headlined news, but the more analytical stories tended to receive extra attention from a core and consistent group of readers.
"When we publish analytic work on the site—we span a broad range from news to features to some pretty wonky analysis—we don't attract a huge audience necessarily for those kinds of posts, but boy are they involved with questions and comments," says Business Insider president and COO Julie Hansen. "It became obvious that there was an audience who was interested in the deeper analytic work, either intellectually or for their jobs."
Adding on a subscription-based content product is not a new idea for sites like BI, but it's been a way to hedge against the ups and downs of display and native advertising, and the research content has turned out to be a clever way to link the main, free site and events with the subscription-based product.
For starters, BI uses top-level content from the fee-based reports on the main site as a teaser. "For a long report, we'll take a portion and put it outside the paywall—a portion of the content that's substantive enough that it's perfectly fine standing on it's own, but it's obviously part of a much bigger report," says Hansen. "These reports can be anywhere from five to ten pages, they're pretty meaty."
Behind the paywall, subscribers have access to two reports per week, a daily chart and several weekly news stories—plus all the archival content. The mobile research content library now contains about 300 charts, says Hansen.
And it's not just about the data, format plays a key role. Subscribers also get the data formatted in downloadable PDF and Excel files, or as PowerPoint decks.
"We've learned that under certain circumstances decks are the best way to tell a particular story," notes Hansen. "People find enormous value in the collection of data, and the visualization of data can be powerful. But they're not a panacea. They don't always work, sometimes a report is what you need to explain the complicated concepts."
Beyond that, the research reports, particularly in deck form, can be magnets for subscribers. A 50-60 slide deck, for example, may become the center of a keynote presentation by BI CEO Henry Blodget. That same deck becomes a sought after presentation by attendees and others. In turn it's repurposed as a slide show on Business Insider with plenty of marketing copy pointing readers to the subscription site.
"It's the three-legged stool of our business model. The ad side is the biggest by far, but the other two—events and content sales—are working in concert with it in a very cool way," adds Hansen.
Meet the Author
---