Business Elite Still Love Print

Ipsos Mendelsohn survey: 88 percent read 'last issue of any print media.'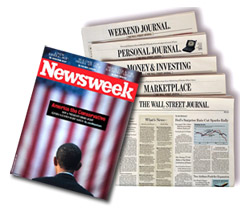 Top American business executives spend a lot of time worrying about the volatile economic climate—and a lot of time consuming media, with a vast majority of them clinging to print.
This, according an Ipsos Mendelsohn media survey of the U.S. business elite—some 8,000 senior and C-suite executives across all sectors—released late last week.
The survey, sponsored by a cross-section of media companies, including Condé Nast, Newsweek and the Economist, was initiated to support the planning of ad campaigns targeting this high-end demographic. The results give a rare glimpse into the media habits of these executives, who are responsible for $1.4 trillion of business spending, earn $246 billion between them and, according to the report, take enough flights to "fill the Rose Bowl 69 times."
DOWNLOAD: Click here for a PDF copy of the Business Elite Survey
The business elite are heavy consumers of all media, according to the survey, with a large percentage consuming print specifically.
Of the 2,252 respondents, 88 percent read the last issue of any print media, while 59 percent watched cable news within the previous day (51 percent watched broadband video on a computer). However, just 32 percent say they read blogs, 18 percent downloaded a video podcast and a scant few (6 percent) contributed to a blog.
The print media consumption of the business elite, according to the survey, is stable—healthy, even—but not increasing. Between 2007 and 2008, general print was steady (at 88 percent) while monthly, bimonthly and daily readership slipped between 1 and 3 percent.
Survey of News, Ad Value
Interestingly, the respondents said local newspapers (as opposed to national newspapers and business magazines) were their main print source of U.S. and political news, while national newspapers were their main source for business news. (Business magazines were the main source of industry news, however.)
Ads in magazines—more than local and national newspapers, according to the survey—spur the most action taken by business executives.  Thirty-eight percent of respondents said they visited a Web site as a result of seeing an ad in a magazine, compared to 23 percent for local newspapers and 21 percent for national newspapers. Magazines also led in terms of purchasing a product and contacting an advertiser as a result of an ad.

Newsweek, Forbes.com Top-Read Magazine Products
 
In terms of specific titles, Newsweek is the most widely read weekly magazine among the business elite (17.8 percent), followed by BusinessWeek (16.5 percent) and Sports Illustrated (16.2 percent). CFO (15.3 percent) is the most widely-read monthly magazine, followed by Golf Digest, National Geographic, Golf and Money magazines. (Just 3.2 percent read Vanity Fair.)
DOWNLOAD: Click here for a related charts
Forbes.com tops the list among magazine Web sites visited daily among the business elite, although, such is the fragmented online world, this number accounts for just 1.6 percent of those surveyed. (By contrast, 8 percent read WSJ.com daily while 19 percent visit Yahoo.)
Meet the Author
---