Content has always been considered a loss-leader among publishers. However, in the glory days of print, advertising and circulation revenue easily paid for long-form, in-depth content of limited frequency.
That's not the case in the digital age, in which digital advertising, for the most part, isn't enough to cover the expense of a constant stream of original content.  The $315 million sale of The Huffington Post proved that free digital content can make money (as long as you don't pay a large number of the people generating that content).
Earlier this year, Business Insider CEO Henry Blodget offered a peek at his financials, revealing that the company made a profit (of $2,127) but would sink back into the red thanks to aggressive investment.
Blodget didn't reveal what he's paying to generate content, but says, "We didn't make that profit because we're a sweatshop, by the way." He claimed a 25-person newsroom (which is larger than many magazines which are generating far more than Business Insider's then-revenue total of $4 million).
Paid digital content has proven to work in select markets (The Financial Times reported a 34 percent increase in digital subscriptions to 230,000, while registered users increased 49 percent to 3.7 million in the first half of 2011) but requires a significant investment, one many publishers can't (or won't) make.  
Striking a Balance Between Original, Aggregated and Curated Content
Picking up outside content isn't just smart, it's a necessity. Aggregation and curation are a part of just about every publisher's digital strategy, and the names get cuter every week, from "discovery content" to "link journalism."
Licensing deals abound while firms such as Outbrain and YellowBrix specialize in "discovery content,"—automatically pulling content from other Web sources. Yahoo plans to launch a new content and advertising network and is trying to convince publishers to install Yahoo software on their pages in order to deliver tailored content to readers. Publish2 offers free content from sites such as ProPublica and DailyFinance.com, which is routed into appropriate categories (general news, financial and business, etc.).
The question is to what extent a publisher should balance original content with aggregated content. After being shuttered by Nielsen, storied trade publication Editor & Publisher seemed to find new life last year when it was purchased by boating publisher Duncan McIntosh Inc. However, last October, Duncan McIntosh fired the existing editorial staff and implemented a strategy focused on aggregating news stories, rather than creating original content. Under Nielsen, there were six full-time editors producing a magazine and two weekly newsletters. Under Duncan McIntosh, E&P has two full-time editors and two edit staff members dividing their time between several publications.
Others walk a line between original products and aggregated content. In July, Access Intelligence (owner of FOLIO: publisher Red 7 Media) acquired Cynopsis Media, which produces daily and weekly e-letters for the television, digital media, kids marketing and sports media markets, with nearly 150,000 subscribers in 53 countries. As an aggregator, Cynopsis will complement paid products serving specific markets, such as AI's CableFAX. "This is very much like the FierceMarkets model," says AI CEO Don Pazour. "It features aggregated content, no HTML and ads are text. The main product has 57,000 opt-in requests with high open rates. We were surprised at how well the aggregation and curation model performs from an advertising standpoint. It fits our market and it's nicely profitable."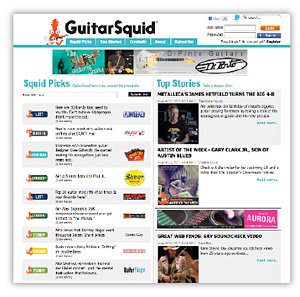 On the enthusiast side, Premier Media's PremierGuitar launched GuitarSquid, a site and newsletter targeting younger, more casual guitarists than its usual audience by primarily offering aggregated content. Since its January launch, GuitarSquid has seen steady growth to 109,614 unique visits in June.
Ultimately, GuitarSquid will reach a larger audience than PremierGuitar, which varies 600,000 to 900,000 uniques per month, according to CEO Peter Sprague, who says GuitarSquid will generate about $500,000 in revenue this year. "For what we thought was a content aggregation site, the engagement level is much higher than we expected," he says.
However, Premier Media is also investing in its original editorial products—and seeing a pay-off. Two years ago, PremierGuitar had three editors, today there are seven (GuitarSquid has three dedicated editors). Premier Media turned its first profit last fall and expects a 30 percent increase this year.
"I'm an ex-Wall Street Journal reporter and I believe in the primacy of content," says Sprague. "In the absence of content, you have nothing. Print has gone up 20 percent per year, and our digital audience has virtually doubled every year. We believe in the free content model, which everyone else these days thinks is crazy."
At an MPA Digital Technology conference in June, panelists that included Matt Robson, SEO specialist at Hearst Magazines, seemed to disagree on the role of original content versus aggregation, particularly in light of Google's algorithm changes earlier this year that were intended to reward original content while downplaying so-called "content farms."
"Some feel that aggregated content will be penalized. In many cases, the best results will be pages that are unique content. I feel the more important balance is what portion of content is central to the brand, and what portion of content is 'demand-driven,'" Robson told FOLIO:. "Mainstream publishers could do a much better job in increasing the amount of content that they offer that is specifically going after existing demand. Speaking for myself, it is not my understanding that major publishers are seriously answering this question. Traditional publishers are reluctant to change their brands to be more demand-driven, with less focus on exclusive content and more focus on meeting search demand."
For a company to rely on aggregated content it would have to have superior technology or means of content discovery, according to Robson. "Even sites that are cookie-cutter still will pay for cheap original content to be able to build site-wide link equity," he says. "Re-writing content can be the best of both worlds. Original, quality content is always a factor. The question is what ratio the company can get away with. This depends on the demand for their exclusive content and how well they present their non-exclusive media."
For fast-changing, competitive news and trendy lifestyle content markets, aggregation may not be the best way to get a new visitor, according to Robson. "Aggregation is the most cost-effective way to retain visitors, since most companies don't have the budget to produce quality new content on a daily basis," he adds. "For well-defined markets that have consistent demand like celebrity photos, shopping resources, do-it-yourself media and (some) niche markets, you can get away with a lot of cookie-cutter content."
From UGC To "Influencers"
The early promise of "user generated content" hasn't exactly been fulfilled but many publishers are working to recruit "influencers"—notables within their markets who can draw attention through their existing channels.
Implication and execution of these terms varies with each publication. Indie magazine Utne Reader recently installed an Alt Wire feed into its website, which pulls linked stories from influencers' Twitter feeds to aggregate a socially built content channel. Influencers are chosen by edit staff, and include those featured in past "Visionary" issues of Utne Reader, as well as honorees from Utne's Independent Press Award. Editor-in-chief David Schimke says that since its launch in June, Alt Wire has not been measured for its traffic, but gauged for its workability.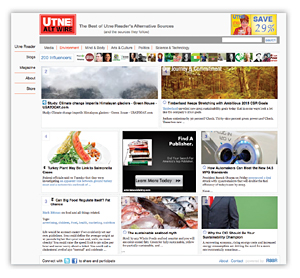 Alt Wire, built by Sociative Inc., is organized by seven content categories and "influenced" by 30 contributors' feeds in each sector. Of Alt Wire's ultimate purpose, Schimke says, "First, it will be a feed that we will feature prominently on the homepage. It won't be the only feed there, but I can see it as a central news feed because it updates so constantly. We have six or seven people to put out the magazine, and we can't always update the blogs in each category. As editors, since this information is coming from folks we would follow ordinarily, it gives us excellent leads on great stories that we can follow up on or feature in the magazine."
Enthusiast publisher Future US is set to launch a search for 300 "super users" for its Maximum Tech and Maximum PC properties. Culled from Twitter and Facebook, prospective super users will be asked to fill out a survey (including a brief essay question) detailing their qualifications for the job. After appropriate candidates are identified, Jon Phillips, editorial director of the Tech Group at Future US, says, "We'll be soliciting them for ideas, reader columns, real time feedback on content…it could be a matter of, 'Which headline do you like better?'" Super users will also be asked to provide product reviews for Future's Web properties.
Phillips says super users are comped for their participation with badges for their Facebook pages, the ability to upload personal photos to Future's Facebook pages, coupons and exclusive discounts on products that may interest them.
Benefits for publishers enlisting this kind of audience participation are abundant: original content, user feedback and loads of promotion through third-party social networks for magazines and their advertisers.
At the Yale Publishing Conference held in New Haven, CT last month, Glamour editor-in-chief Cynthia Leive spoke of the magazine's "Young and Posh" blogger network as a great success in terms of driving traffic to Glamour's website. She also shared that while a few bloggers receive small compensation for their work, the majority remain unpaid for their contributions.
Content and SEO?
Successful content today is about being found. For Robson, the best use of publishers' brands and content would be to continue to promote their featured content through high-value links, but also engage their audience in a real-time basis through use of newsmongering, curation, linking out, aggregation and content partnerships.
"Many traditional publishers have a clunky experience in terms of retaining users on their site through recommended links," says Robson. "For publishers in this situation, it is more feasible to multiply their engagement per-user than it is to scale their traffic."
For pure SEO first-time visits, magazines can look into their site structure and make their articles good "linkbait" by using top lists, which are easily skimmed, according to Robson. "The important thing is to make the most of each new visitor gained by SEO through engaging content suggestions and getting the reader to become a subscriber to a specialty newsletter. Monetization of the initial SEO visit to a lifetime value is going to be a result of offering engaging content and having a compelling reason for readers to return often and subscribe to direct marketing promotion channels."