Building a Mobile Platform? Time to Burn the Boats

Commit to a strategy and team before a pure-play steals your market share.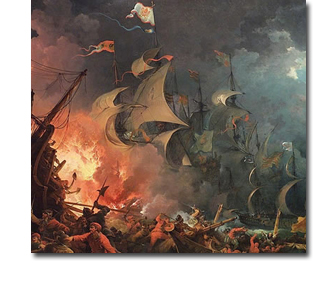 I recently had the opportunity to attend an Intel conference where blockbuster film producer, executive and bestselling author Peter Guber spoke. In his speech, Peter emphasized the importance in business of being fully committed to an opportunity, and evoked the metaphor of Spanish conquistador Hernán Cortés' famous order to "burn the boats." Upon arriving in Mexico and facing the warriors of the entire Aztec nation, Cortés knew the only viable exit strategy was to move forward—as the alternative would have meant utter failure (climbing back in boats and retreating to safety).
As I think about the opportunities and challenges mobile represents to the media/publishing world, it strikes me that these organizations would do well to follow the same strategy.
According to many sources, mobile platforms (smartphones, tablets) now account for more than 10 percent of media consumption. If you speak with publishers that produce rich content today, traffic to smart device platforms is approaching levels closer to 25 percent. Most of this audience engagement has come with little commitment on the product side to truly exploit the usage shift that is taking place. Publisher monetization on these device platforms is even worse, capturing barely 1 percent of ad spend.
The mistake publishers are making is simply not dedicating the resources and commitment required to effectively optimize these new business opportunities. Publishers continue to manage the emerging platforms as extensions of current print, broadcast or digital businesses. While "mobile specialists" are found embedded within these organizations, there is virtually no commitment to full, standalone teams of content, audience marketing, technology and product specialists solely focused on growing these "new businesses" and effectively cannibalizing the legacy businesses before somebody else does it for them.
A look back at the transition to desktop web illustrates an informative history. Most publishers pursued the same path of managing initial digital efforts as a part of existing business activities and fell hopelessly behind as new brands charged forward with the benefit of focus and clarity on the new market opportunity from a purely digital position.
I worked at one of the only traditional media companies that took a different path. Ziff Davis set up its first interactive business (ZDNet) as its own, standalone business. It had its own executive, content, sales, marketing, technology and product teams. These teams could not fall back onto the safety of market-leading print business. The mission was to succeed online or fail tying. The boats were burned. It was a bold move executed by then-CEO, Eric Hippeau, that let to ZDNet establishing itself as a $100 million business and an early top-ten most-visited property as the Internet media market got rolling.
Ironically, many of the very digital brands that took advantage of the unwillingness of the print market leaders to go all in, are now repeating the same mistake as we transition to mobile. As such, it's a new crop of mobile pure-plays that have assumed market leadership in key areas of audience footprint and advertising/monetization.
The publishers that have established content brands, audience relationships and advertiser history are positioned to succeed wildly, but only if they burn the boats and put dedicated businesses, people and platforms in place to grab the opportunity. If they don't, history will surely repeat itself. The opportunity will quickly become a glaring liability as the majority of audiences and advertising dollars shift to mobile in the coming years, and marquee digital media brands die, as did many of the generation of print brands before them, who failed to make this vital transition.
Meet the Author
---