Building a List Strategy for E-Marketing

How to identify prospects and avoid list fatigue.
How many marketing e-mails does your company send out each day? For Canon Communications, the number is nearly 1 million, which may pale in comparison to large consumer outfits like Time Inc. and Reader's Digest, but is a whopper for a mid-sized b-to-b publisher. E-mail has made it possible to target marketing messages like never before. Unfortunately, it also means publishers have to stand out in the flood of marketing materials their prospects get each day.
Here, audience development director Len Roberto shows how Canon goes about not only avoiding list fatigue but targeting the most attractive prospects.
Piggyback Off Telemarketing, Events
Canon combines e-mail promotion with circulation telemarketing campaigns. "That delivers 20 percent to 30 percent conversions and we can add up to 5,000 new opt-ins to each list we call on," Roberto says. One recent Canon effort got 7,000 opt-ins to the daily list.
But it's imperative to know the limits. Canon only seeds one newsletter per campaign, rather than three or four. "When you ask for more it hurts the telemarketing campaign," says Roberto.
With an aggressive events business, trade show attendees are fertile ground, but Canon offers them newsletter access on a trial basis for five days rather than opt-out. Canon keeps a record on those prospects that show interest (such as clicked on a link or opened stories).
Canon also cross-promotes on all its subscription sub forms, for both print and digital. "We have all print and newsletter forms in once place," says Roberto. "Some newsletters are getting 100 to 200 opt-ins per week on these forms."
The publisher keeps a monthly budget for paid opt-ins from third-party agents for both print and newsletter subscriptions. With $1-$3 average cost per name, "It's a good way of adding 200 to 300 records per month to the newsletter file," says Roberto. "It also gets away from marketing to internal prospects and points us toward new blood."
 
Keep Your Data Clean
Opt-out levels are important and Canon tries to keep it to three. "That way we can maintain bounce rules, but we can change them if it effects the lists up or down," says Roberto. "Daily newsletters may need a higher bounce rule. We remove non-responders on a regular basis."
While magazines typically update lists at three or four years old, many newsletters have lists that are four or five years old. "It's a good idea to get them off," says Roberto. "We do an annual cleansing where we send our lists to a third party and have them verify locations. Clean your database, it helps all the metrics."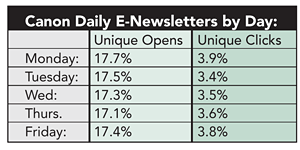 Test Conventional Wisdom
And speaking of metrics, it's easy to get buried in the sheer amount of data from your e-mail service provider, according to Roberto.  "That can blind you to something you haven't tried," he adds.
Take day-of-the-week metrics—conventional wisdom says don't mail anything on Fridays, when your target audience is likely to be out or at least non-responsive. However, when Canon looked at the performance of six different newsletters over a four-month period, newsletters sent on Fridays had the second highest click rate each week. "Don't be blinded by 'rules of thumb' until you test it yourself," says Roberto.
Targeting vs. Fatigue
Canon recently conducted an "unsubscribe" survey in which 51 percent of respondents said they receive too many e-mails. In response, Canon is trying to implement a limit for promotional messages. "That's difficult because of the technology involved and secondly, every department wants their e-mail to be the number one priority," says Roberto. "Priority is given according to potential revenue associated with the message and messages dedicated to upcoming events. We also try not to e-mail messages to people in the same states the events are in."
When working with clients, craft a focused message for the audience. "The days of the shotgun approach have to be gone," says Roberto. "That leads to fatigue and poor response. If we start out with 20,000 names, we'll dig deeper and find the real list is really only 8,000. It's hard work but it's best to convince the salesperson and client to e-mail to those 8,000 names."
With list creation for new products, don't send e-mails to the entire list of people you already have, narrow it down to the best performers. "We created three or four new newsletters in the last six months and instead of sending to the franchise's entire pool, we only picked people who interacted with messages," says Roberto. "We're now seeing a 35 percent to 40 percent open rate."
Canon tags content within newsletters to track how many people clicked within certain content categories. "We can target those exact folks who clicked on a story that's related to an upcoming Webinar," says Roberto. "It's a great way to create a custom list for clients."
Appended Data Is Worth the Cost
"Appended data"that's added to the core data, often from big commercial databases to overlay on top of in-house databases, can make your list more appealing externally for renting, or internally to target marketing messages. The cost is typically 35 cents to 50 cents per match.
"The more you can target your audience, the more leads you can create and the more revenue you can generate," says Roberto.
Meet the Author
---