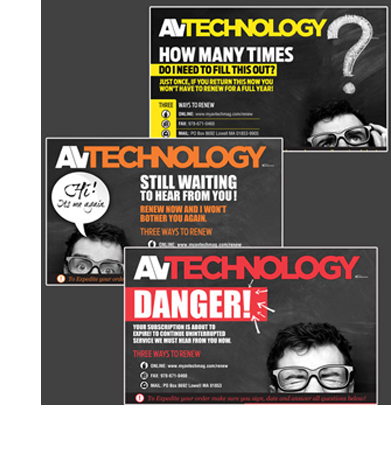 We've been focusing on fine tuning our 2014 integrated marketing campaigns here at New Bay Media. When I thought about how to start this process it occurred to me that when we think about an integrated marketing campaign we usually figure that it's for our brands with a paid model and mostly for new business. Since I have a handful of trade (controlled only) titles as well, I thought about what I could do to create an effective integrated marketing campaign focused on requalification. Below I'll take you through the process of how I started my integrated marketing campaign for 15 trade titles.
The answer is in the cover tip message/design.

Yes, that's where I started. We do A LOT of requal emails throughout the year and we go from soft messages to stronger, building on the urgency as we get closer to our goal dates (May 31 for May books or November 30th for November books). But what we weren't doing with these email messages was taking them all the way across the different marketing methods within the same time that the email goes out, thus capitalizing on the roles of various marketing methods like banner ads, interstitials, etc. to provide our audience with clearer picture of what they need to do to keep their free issues coming to them.
Once I had my cover tip efforts set in place, I had to decide what other marketing channels I wanted to include and how I was going to keep the message consistent throughout the efforts. 
1. Start with when the print issue will be mailed with the cover tip.
2. If the February issue with the cover tip mails in January, then all of the other efforts related to this cover tip should go live in January.
3. This will help keep the messaging consistent. The idea is that the person who gets the print magazine with the tip should have received an email a couple of days before announcing the tip. And if they visit the website during January, they should see the interstitials and banner ads with the same messaging and design. If they get a newsletter in January, there should be a banner ad projecting the same message. And lastly, for those brands that offer free access to the iPad/iPhone apps, we'll have banners ads in the container app and push notices.
My goal with the integrated requalification marketing campaign is to build this awareness with the reader that we want them to do something. There's an action they need to take in order to keep getting their free issues.
We are ready to start this integrated requalification marketing campaign with 2014. Obviously these cover tip-based integrated marketing efforts are not the only efforts that we are going to be using, but I'm projecting that building on the message of the cover tip with other traditional and nontraditional marketing efforts will increase the overall requalification responses related to that messaging. We are going to have unique tracking code for each marketing channel and I promise to follow up next year in the fall to let everyone know how it did.