Building a Custom Video Program

Stack Media's ad-integrated vids generate 60 percent of the company's revenue.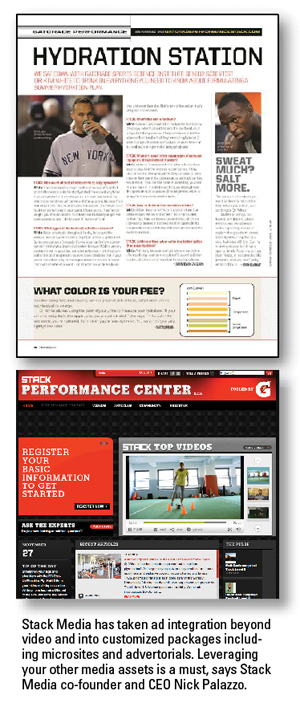 Stack Media relied on a regional freelance network to reach a few hundred thousand viewers per month when it started its integrated video campaigns in 2008.
Within two years, a Stack Studios crew had been assembled and was traveling the country filming for sponsors like Gatorade and Nike. They're now getting upwards of 15 million views per video and generating 60 percent of the company's revenue.
Stack Magazine, the flagship of the larger media group, was established in 2005 as a training and fitness title centered on professional athletes. Video came in 2008 with the launch of the company's digital network—a "natural extension" of the content they were already producing, according to Nick Palazzo, the company's co-founder and CEO.
Is It For Your Audience?
The demographics worked for Stack. The majority of its audience is comprised of 16 to 24-year-old males—among the most active online video viewers, according to several recent reports.
Overall, 18 to 24-year-old men and women with regular access to the Internet spend close to 11 hours watching web videos per month, or nearly one-third of their total time online, says Nielsen's Cross Platform report from the second quarter of this year. A Pew Research survey from this fall indicates that the group is highly engaged, as well, with nearly a quarter of all adult American males sharing videos.
All told, comScore has tallied more than 100 million Americans watching video online each day, up 43 percent from 2010.
How Do You Make It?
Pricing for the content is highly variable, Palazzo says, with the number of shoots being the key determinant. A single session—requiring travel, equipment, venue, lighting, etc. (along with the personnel to manage it all)—can run up to $10,000. On the low end, a shoot can be arranged for around $1,500. It's up to the advertiser.
The same goes for concept. The project is usually handed off to Stack right from the start, but sponsors can play a larger role.
"Sometimes they can be very involved in storyboarding, bringing the concept to life and providing assets," Palazzo says. In Stack's case, those "assets" are usually famous athletes, but they can be products, venues, signage, memorabilia, logos, uniforms or anything else they want included.
The bigger the asset, the bigger the response. Timing plays a role, but the golden-rule for luring readers to the newsstand applies to attracting viewers online: recognition.
"What really drives traffic and engagement is getting the biggest star possible," Palazzo says.
How Do You Sell It?
Palazzo estimates that as much as 85 percent of Stack's content is now video-based, so naturally it's their lead story to tell potential advertisers. From there it's a matter of selling the complete distribution and media package.
"It's hard to sell just straight video. You have to package it with other media assets that you already have—that's really the most important thing," he says. "In a lot of what we do, you'll get the video content, the distribution across our platforms, and media—banner and print—all together in one package. It's much more efficient to buy everything rather than just piecing it out. We make it an offer they can't refuse."
Integrated Sales Still Difficult To Do With Agencies
In a divided print and digital world, Stack can run into difficulties trying to manage a deal across the multiple ad agencies running those respective arms. Whenever possible, Palazzo will try to deal directly with the company.
"It's sometimes hard to do integrated ad sales if they have separate agencies for digital and print," Palazzo says. "One of the most important things to focus on is working directly with the client. They're going to be the ones that have the ability to do multiplatform deals, as well as the foresight and knowledge base to help make a video program successful."
How Do You Measure It?
Stack's integrated video campaigns don't feature any product links or buy options—they're straight branding enterprises—so measuring success can be a challenge. In the absence of conversions, Palazzo relies on engagement metrics like video plays and average time spent with the video to let him know how they performed.
"If you get someone to watch a minute or minute-and-a-half of video, that's a pretty valuable impression," he says. "If you can get them to click-through, then great, that's something you can quantify. But that's not the key metric that we focus on."
Meet the Author
---